---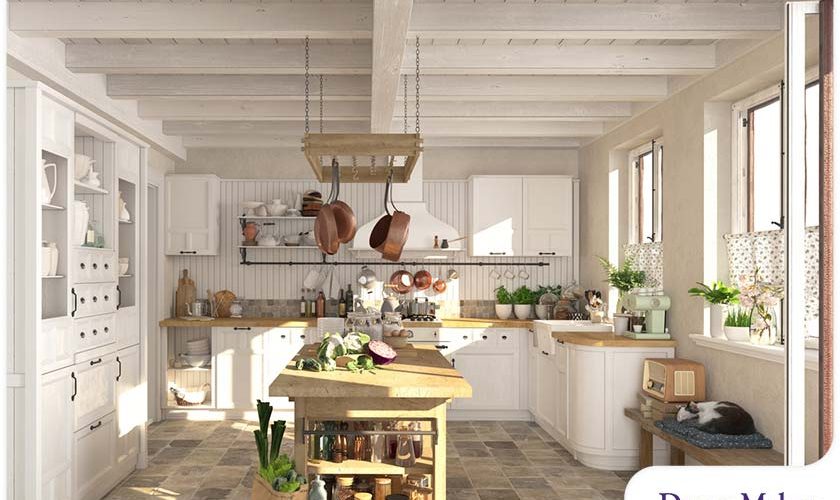 ---
A sleek and contemporary look makes for a kitchen that oozes style and efficiency. But if you're the type who yearns to go back to basics, you'll love a cottage-style kitchen. It's cozy, it's rustic, and it's simple to integrate into your existing kitchen design. The premier kitchen contractor in the area, DreamMaker Bath & Kitchen of Schaumburg, shares how.
Choose Soft Neutrals as the Dominant Color
If you're aiming for the true cottage-style look, choose neutrals as the base of your kitchen palette. The walls and cabinets are traditionally white, the countertops are usually made of wood with a pale finish, and the floors are either natural stone or wide-plank wood. That's pretty much it. But if you find that a bit on the safer side, there's no stopping you from adding pastel blue, yellow, or green accents. If you're feeling particularly adventurous, you can also introduce vintage textiles to the space. Classic gingham, chintzy florals, and French linen are great examples.
Don't Forget a Good Layout
Cottage-style kitchens are often small, so the proper layout should always be taken into account. You'll need to think carefully about how to use the space. This allows you to map out the placement of your stovetop, fridge, and sink better, which, in turn, allows for a more seamless and efficient kitchen workflow. Sure, a cottage-style kitchen is cozy and charming, but you'll still want it to be practical. Consult a reliable kitchen remodeler like DreamMaker Bath & Kitchen of Schaumburg to create a smooth and functional layout for your kitchen space.
Use Genuine Wood Shaker-Style Cabinets
The cabinets take up plenty of visual space in a cottage-style kitchen. You can add to its accuracy by picking real wood shaker-style cabinets. They come with a simple, laid-back, but elegant design that allows them to match well with the rustic look of your cottage-style kitchen. As for other types of storage, consider integrating floor-to-ceiling cupboards to better maximize vertical space. You can even go for open shelving and plate racks to complete the cottage-style look.
Other Staples in Cottage-Style Kitchens
Aside from those mentioned above, you can easily plan your cottage-style kitchen with these other distinctive features:
Brushed gold and brass fixtures
Vintage-style drawer pulls
Butler kitchen sink
Beadboard on the walls, ceiling, and island
Simple crown molding
Rustic timber furniture
Exposed beams
Larger and taller windows
Glass-fronted cabinets displaying vintage collectibles
Schedule a Kitchen Design Consultation
DreamMaker Bath & Kitchen of Schaumburg is the only "trusted contractor near me" you can trust for high-quality kitchen remodeling services. Start a conversation with us by calling (847) 973-5097. You may also fill out this contact form. Our design center, which serves Arlington Heights, Elk Grove, Palatine, Hoffman Estates, and Barrington, IL, is open Monday through Friday and on Saturday by appointment only. We'd love to hear from you!