---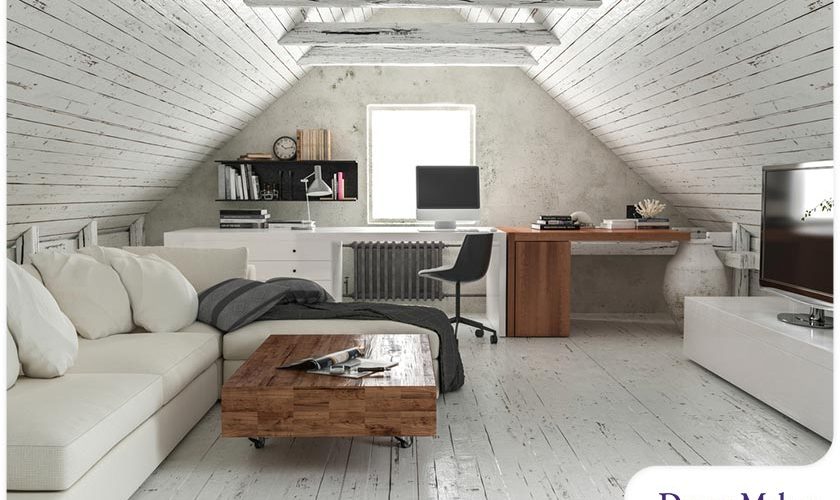 ---
The attic contains some of the most important components in your home, including the insulation, ventilation and wiring. In many homes, the space also serves as a convenient storage for seasonal decorations, old toys and off-season clothing. The attic can be pretty handy, sure, but it can also be so much more than just a room to keep little-used items.
How about having it finished and converted into something else? A premier home remodel company in the area, DreamMaker Bath & Kitchen of Schaumburg, has some ideas for your attic renovation.
1. Entertainment Room
If your home doesn't have an entertainment room, then a finished attic can provide the space you need. A set of comfortable chairs and a table should be good enough, but you can take it to the next level. Consider adding a large, flat HDTV or setting up a projector and screen to create your own indoor theater.
Pro tip: Make sure the lighting has dimmers to create the "at the cinema" vibe you're aiming for. Most importantly, you'll need to make the space soundproof by adding insulation. Consulting a reliable home renovation company like DreamMaker Bath & Kitchen should help with this.
2. Home Office
Are you working from home full-time or do you just want a space that allows you to catch up on work over the weekend? A finished attic is the ideal place to set up your own home office because it's far enough from the main living space that you'll be able to work or attend Zoom meetings uninterrupted.
Pro tip: Your attic should be large enough to accommodate your desk, chair, computer equipment, shelves and cabinets. Because this room doesn't usually have windows, you'll need to incorporate effective task lighting in the space or add a skylight or two so you have access to natural light during the day.
3.Bathroom
A full bath space in the attic of your home? Yes, it's definitely possible. If you live with a large family, having an extra bathroom allows for greater comfort and convenience.
Pro tip: There are plenty of essentials to consider when converting an attic into a bathroom. For starters, you'll need a contractor to check whether the space is structurally sound. You also have to take plumbing into account. The results can be more than worth the initial hassle, especially when you work with a trusted remodeling expert like DreamMaker Bath & Kitchen of Schaumburg.
Let's Start a Conversation!
Get the most out of your attic space by turning to DreamMaker Bath & Kitchen of Schaumburg for high-quality interior remodeling services! We'll make sure your experience with us is positive and rewarding. Start a conversation today by calling (847) 973-5097 or filling out this contact form. We proudly serve homeowners in and around Schaumburg, Arlington Heights, Elk Grove and Palatine, IL.