---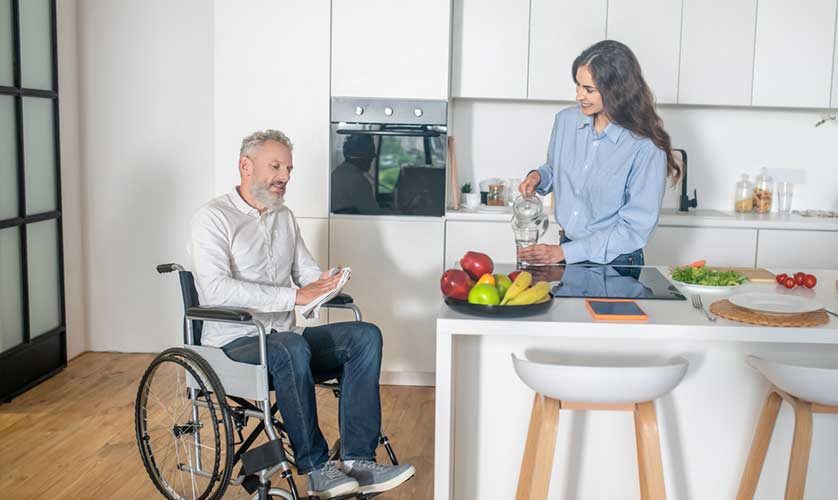 ---
More people are now recognizing the importance of accessible design, so ensuring your kitchen is a comfortable and safe space for everyone has become even more crucial. As local experts in accessible remodeling, DreamMaker Bath & Kitchen of Reno is here to help guide you through the essential features and benefits of an ADA-compliant kitchen.
What Is the Americans With Disabilities Act (ADA)?
The Americans With Disabilities Act (ADA) is a federal law that aims to protect individuals with disabilities from discrimination and ensure equal access to public spaces and facilities. This groundbreaking legislation has significantly impacted the design and construction of both public buildings and private homes, paving the way for more accessible and inclusive spaces.
Key Features of an ADA-Compliant Kitchen
An ADA-compliant kitchen is designed with specific features to accommodate people of various abilities. These features include:
Accessible countertops and work surfaces. The height of countertops should be adjusted for wheelchair users, typically ranging from 28 to 34 inches from the floor. Adequate knee and toe space should be provided beneath countertops, with a minimum of 27 inches of clear height and 30 inches of width.
Accessible appliances and fixtures. Side-opening ovens and microwave drawers allow for easier access and safer use by wheelchair users. Front-control cooktops and adjustable-height sinks enable users of all abilities to cook and clean easily.
Accessible storage and cabinetry. Pull-out shelves, lazy Susans and other accessibility features can make reaching and storing items within cabinets easier. D-loop handles and touch-latch doors provide an ergonomic and easy-to-use design.
The Benefits of an ADA-Compliant Kitchen
By incorporating ADA-compliant features into your kitchen design, you can enjoy several benefits, such as:
Increased safety and comfort for all users, regardless of age or ability
Improved functionality and efficiency, making everyday tasks more manageable
Enhanced resale value and marketability for your home
Finding a Qualified Kitchen Remodeler
As you begin your search for a qualified kitchen remodeler near me, keep in mind the following tips:
Work with an experienced accessible remodeling professional who understands the requirements and nuances of ADA-compliant design.
Check reviews and project portfolios to find a reputable remodeler.
Request a kitchen quote from multiple professionals to compare costs and services.
Let's Start a Conversation!
In today's world, an ADA-compliant kitchen is more important than ever for ensuring safety, comfort and functionality for everyone. Contact DreamMaker Bath & Kitchen of Reno at (775) 522-7888 or visit our website to request a kitchen quote and benefit from our expert guidance on accessible remodeling. We are proud to serve homeowners in Reno, Verdi, Truckee, Lake Tahoe, Carson City and the surrounding areas.