---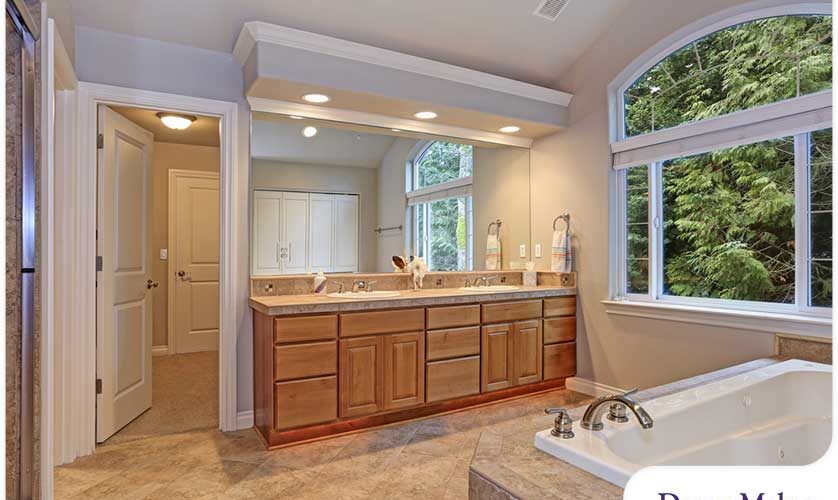 ---
It's not always possible for everyone to have their own bathroom. If you have a large household or limited space, you might have to share this room with another family member. It can be challenging to design shared spaces but not impossible with the help of a skilled bathroom remodeler. Read on for quick tips.
Key Things to Consider
Space
The first thing you need to consider is the available space in your bathroom. Carefully analyze the room to determine the best location for the toilet, tub and shower. Do you have enough space for two sinks? If so, they make a great addition to a shared bathroom. Accurately measure the room to design an efficient and functional layout.
Privacy
A common concern in a shared bathroom is privacy. Separating each area of the room can help eliminate this issue. For instance, you can close off the toilet or shower so multiple people can use the bathroom simultaneously.
Storage
Having sufficient storage is essential to keeping any room organized and clutter-free. Be sure you have enough space to keep toiletries for at least two individuals. Open shelving, over-the-door caddies and drawers are great storage options.
Cleanliness
A shared bathroom gets more use, meaning it may require more maintenance. Cleaning supplies and tools must be accessible, so it's easier to keep your space sparkling clean.
Shared Bathroom Design Ideas
Color Scheme
Your chosen color scheme can make or break the look of your bathroom. Neutral colors, like gray, taupe and white, can create a relaxing atmosphere. Consider bolder hues like blue and green if you want to brighten up your space.
Flooring
The safety of your bathroom highly depends on the flooring you choose. Tiles are a popular option due to their versatility and ease of maintenance. However, you might want to select a non-slip material for your physically challenged family members. If you're unsure which flooring option to choose, you can always seek assistance from an experienced bathroom contractor.
Accessories
Towel racks, soap dispensers and toilet paper holders will help improve the functionality of your bathroom. You can add more appeal to your space with decorative mirrors, wall art and warmer lights.
Let's Start a Conversation!
Are you looking for a bathroom contractor near me to assist with your remodeling project? Let DreamMaker Bath & Kitchen of Reno help you design attractive and functional living spaces. Call us at (775) 522-7888 or complete our online form to reach our design experts. We serve clients in Reno, Sparks, Incline Village, Spanish Springs, Verdi, Truckee, Lake Tahoe and Carson City.