---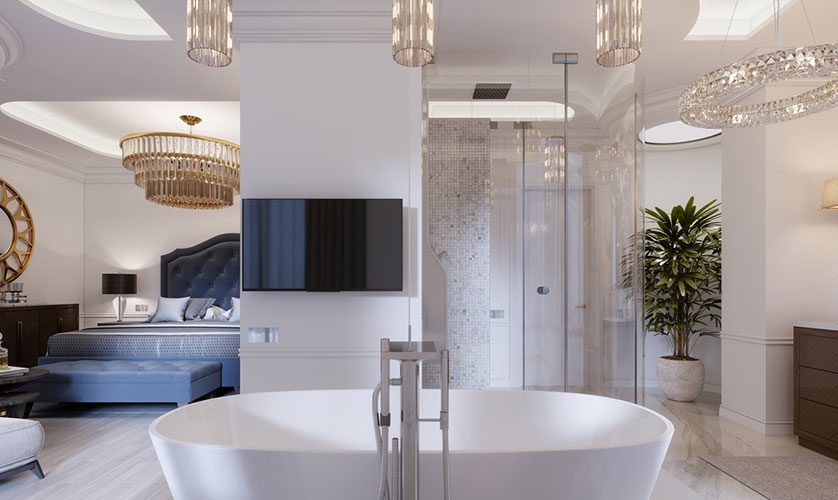 ---
Have you ever considered reinventing your bathroom? If so, you've probably come across the term "open-concept bathroom". In this post, local bathroom contractor DreamMaker Bath & Kitchen of Greenville will guide you through this design idea, including the elements involved and the benefits it provides to homeowners.
Understanding Open-Concept Bathrooms
An open-concept bathroom eliminates the traditional barriers within the space, creating a seamless, free-flowing area. Here, the bathtub, shower, toilet and sink exist cohesively in an open area, often integrating with the bedroom for a luxurious, spa-like ambiance.
Creating an open-concept bathroom goes beyond merely knocking down walls. It's an architectural challenge that needs expert planning and execution. A professional bathroom remodeler can guide you on the most effective layout, offering style suggestions and meticulously handling the remodeling process.
Benefits of Open-Concept Bathrooms
Open-concept bathrooms come with several benefits, most of which are the reasons some homeowners love them:
Makes small spaces feel larger. Without walls and other partitions, small bathrooms can look bigger and more inviting.
Natural light floods in. Natural light streaming through the bathroom window helps give the bathroom a more open and airy vibe, adding to the already luxurious ambiance of the space.
Minimalist aesthetic. Open-concept bathrooms are stylish and aesthetically pleasing. The sleek, modern look of these spaces can transform any home.
Maximum freedom. Since they lack partitions, open-concept bathrooms offer more freedom of movement and customization. This means you can design your space however you like—with a large bathtub, glass shower and freestanding vanity, for example.
Let's Start a Conversation!
Implementing an open-concept design to your bathroom is a complex undertaking that requires the expertise of a seasoned contractor who has positive reviews, an impressive portfolio and a reputation for delivering quality work on time. For homeowners in Greenville and the surrounding communities of Fountain Inn, Taylors, Travelers Rest, Easley and Piedmont, DreamMaker Bath & Kitchen is the go-to remodeler they trust. Count on our experienced team of remodelers to ensure your bathroom transformation journey is as smooth-sailing as possible. Our personalized approach allows us to create a design that meets your needs and budget.
Find out why our name appears on the top search results when you look up "bathroom contractor near me" online. Schedule a conversation today by calling (864) 214-0296 or filling out our contact form.