---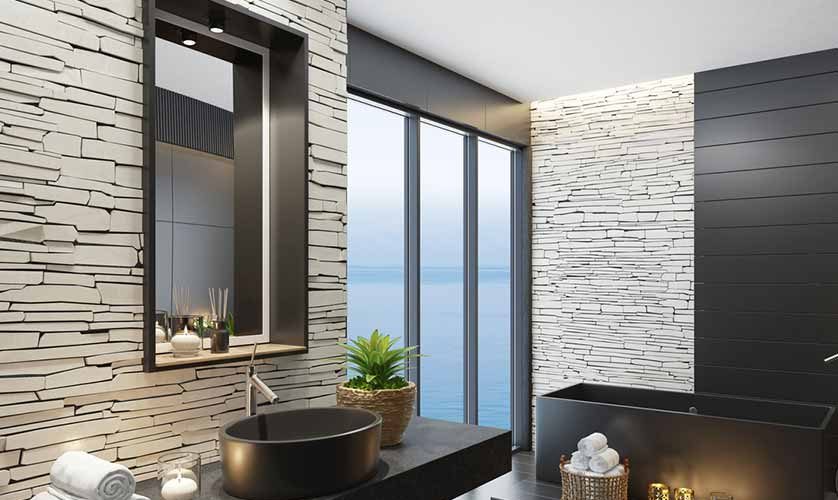 ---
Your bathroom is more than just a functional space in your home. It's a sanctuary where you begin and end your day. One essential aspect of creating the perfect bathroom atmosphere is selecting the proper lighting. Read on as DreamMaker Bath & Kitchen of Greenville explores the various types of lighting you should consider for your bathroom.
Ambient Lighting
This lighting option is the foundation of your bathroom's overall illumination. Ambient lighting provides a comfortable, even glow that fills the room and sets the mood. Common examples of ambient lighting fixtures include ceiling-mounted fixtures, such as flush or semi-flush mounts and lighted ceiling fans.
Task Lighting
For day-to-day activities like shaving, applying makeup and brushing your teeth, task lighting is a must. Unlike ambient lighting, task lighting focuses on specific areas, ensuring that you have enough brightness to see clearly while performing these tasks. For example, vanity lights, wall sconces and adjustable spotlights can all be excellent choices for task lighting. When selecting task lighting, consider factors like color temperature and brightness to give you the most accurate and comfortable illumination.
Accent Lighting
This lighting type adds a touch of character and style to your bathroom. Accent lighting highlights specific elements within the space, such as a piece of artwork, a beautiful tile arrangement or even a stylish bathtub. Accent lighting fixtures include recessed lights, LED strip lights and wall-mounted spotlights. To incorporate accent lighting into your bathroom design, consider the focal points you wish to emphasize and choose fixtures that can direct light toward these areas.
Safety Considerations
Ensuring that your bathroom lighting is safe should always be a top priority. Proper precautions should be taken with any electrical installation, particularly near water sources. Some bathroom lighting safety tips include having a licensed electrician perform all electrical work, considering the use of ground fault circuit interrupter outlets and choosing lighting fixtures rated explicitly for use in damp locations.
Why Work With a Bathroom Contractor
While there are numerous design elements to consider when updating your bathroom lighting, working with a professional bathroom remodeler in Greenville, SC, can make the process much smoother. These experts have the experience and knowledge to guide you through your bathroom renovation, from choosing the right lighting fixtures to ensuring proper installation. To find a bathroom contractor near you, use online search tools or ask for recommendations from friends or family who have done similar projects.
Let's Start a Conversation!
Finding the right balance of ambient, task and accent lighting will transform your bathroom into a beautiful and functional space. Remember to prioritize safety considerations and work with a reputable bathroom contractor near me to help bring your vision to life. If you're ready to discuss your bathroom lighting needs with a professional, DreamMaker Bath & Kitchen of Greenville is the name to call. We serve homeowners in Mauldin, Simpsonville, Fountain Inn, Greenville and the surrounding areas. For consultations or estimates, call (864) 214-0296 or fill out our contact form.