---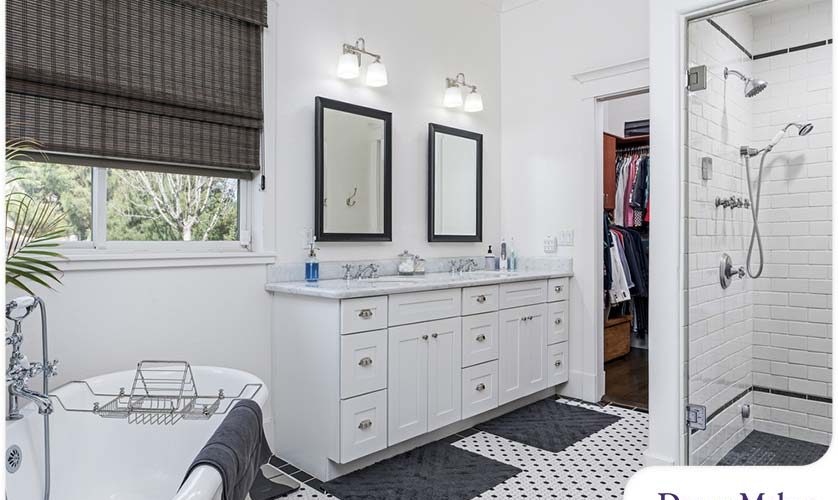 ---
Sharing a bathroom with family or roommates can be a tricky affair. But with some thoughtful design and careful consideration, you can make the process of using a shared bathroom much easier. For an efficiently designed shared space that's easy to use and keep clean, just follow these guidelines from a trusted bathroom remodeler.
Key Factors to Consider
Many factors will play into determining how the final design comes together, so start by identifying the most important ones.
Size of the Bathroom: Size can be a major limitation when planning the design of a shared bathroom. Take an inventory to determine if there is any extra room to work with, or if you're limited by existing dimensions. If possible, consider expanding your bathroom into an adjacent space or making minor structural changes that could enhance the efficiency and look of your newly designed shared bath.
Number of Users: Another key factor to consider is how many people will be using the shared bathroom. If there are more than two, it's important to think about larger-scale solutions that accommodate multiple users and their needs. You may also need to prioritize accessibility remodeling solutions if your household has members with mobility issues.
Storage Needs: When designing a shared bathroom, storage is a crucial factor. Given the limited size of most bathrooms, it will be especially important to optimize your space by using corner, wall-mounted or over-the-toilet solutions whenever possible. You'll want to make sure you have adequate storage to house all the products used by those sharing the bathroom in order to prevent clutter.
Design Ideas
When it comes to designing a shared bathroom, here are a few tips from an expert bathroom contractor:
Neutral Colors: When it comes to selecting colors, go with neutral tones to easily accommodate everyone's preferences. Neutral colors will also be easier to update if you decide to redecorate down the road or make any other changes to the room's style or design.
Partitions: Creating privacy is an absolute must when sharing a bathroom. Even if you aren't able to have a separate toilet or shower area, consider adding small dividers or folding screens to help make sure everyone in the bathroom has their own sense of space and privacy while getting ready.
Hooks: Towel hooks offer more flexibility than traditional single-height bars. Install a variety of hooks in various styles, colors and heights so everyone who uses the bathroom has their own spot for hanging towels or other items.
Let's Start a Conversation!
If you're ready to bring your dream design into reality and find a bathroom contractor near me, call DreamMaker Bath & Kitchen of Greenville! Call us at (864) 214-0296 or send us a message to schedule your appointment. We proudly serve Greenville, Greer, Mauldin, Simpsonville, Fountain Inn, Taylors, Travelers Rest, Easley, Piedmont, Spartanburg and surrounding areas.