---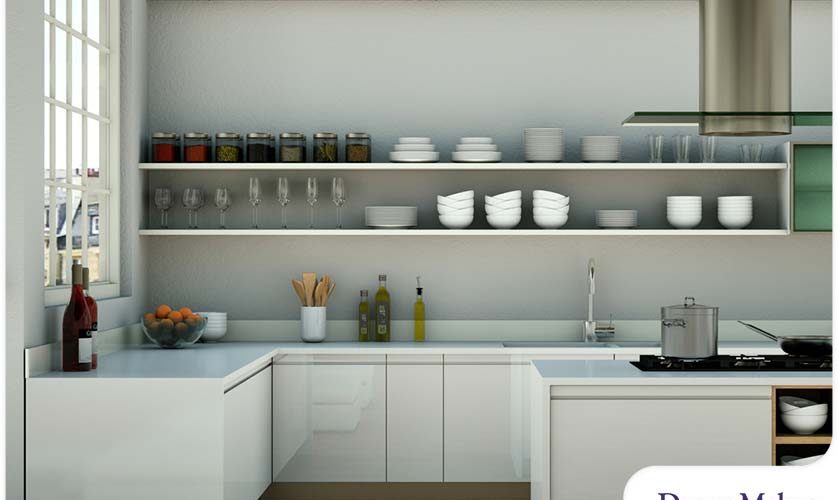 ---
Open shelving is a type of kitchen storage where doors or panels do not enclose the shelves. While open shelving can give your kitchen a more open and airy feel, it also has its downsides. In this post, DreamMaker Bath & Kitchen of Greenville, a renowned contractor with an accurate kitchen quote for each project, shares tips on avoiding regrets with your open shelves.
Considerations
Think about the items you're going to store on the shelves. Planning to put up decorative items? Open shelving may not be the best choice.
Next, consider whether or not your dishes are safe from breakage. If you have expensive or fragile dishware, sticking with cabinets is probably better.
Lastly, think about how to keep the shelves clean. Open shelving may not be the best choice if dust and grease are a concern.
Open Shelving Don'ts
If you decide to include open shelving in your kitchen and bathroom estimate, here are some don'ts to keep in mind.
Installation Errors
Poorly leveled open shelving creates an unsightly look and is difficult to use. Make sure to take your time and measure twice before any installation occurs. That said, ask a reliable home renovator to prevent any installation errors from occurring.
Design Issues
Open shelving can make small kitchens feel even smaller. And if your kitchen doesn't have a lot of natural light, open shelving can make it feel dark and cramped.
The Wrong Materials
Open shelving made of cheap particle board can look out of place in a kitchen made from genuine wood. On the other hand, a modern kitchen needs open shelving made with solid, non-wood textures.
Poor Space Usage
Open shelves are not meant to be a catch-all for everything in your kitchen. They're great for displaying dishes or glassware but may do poorly with appliances and utensils.
Too Many Accessories
If your shelves are cluttered with knick-knacks, it can make your kitchen feel cluttered and cramped. Choose a few key pieces to display and leave the rest in storage.
Let's Start a Conversation
If you are considering open shelving for your home, let DreamMaker Bath & Kitchen of Greenville's experts do the job. Our team of designers and builders can help you create perfect shelves for your kitchen so that you won't need to search for "the best bathroom contractor near me" again. We also serve Fountain Inn, Taylors, Travelers Rest, Easley and Spartanburg. Call us today at (864) 214-0296 or fill out this contact form to get started!