---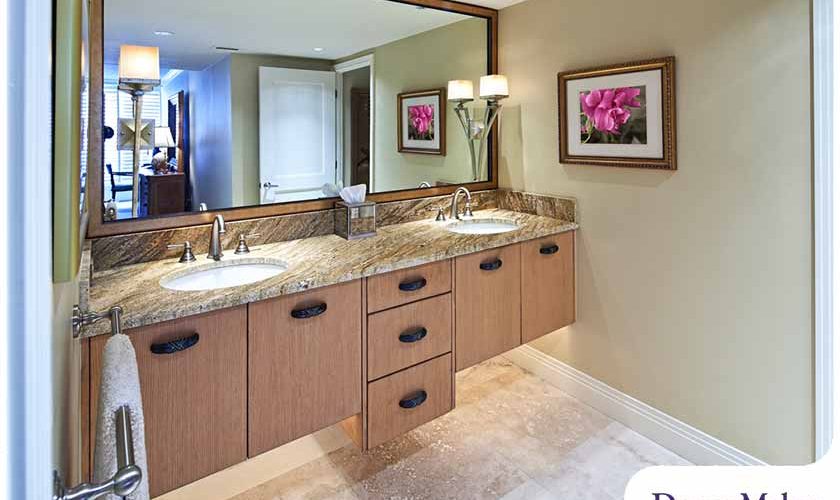 ---
From choosing a new countertop material to deciding whether to convert your tub to a shower, a bathroom remodeling project can get overwhelming, especially if it is your first time. But with the skills and expertise of a reputable contractor, you can make the entire process a little less stressful. As a top "bathroom remodeler near me," DreamMaker Bath & Kitchen of Greenville discusses tips and tricks for a low-stress bathroom remodel.
Prepare a Plan Early
When it comes to your bathroom renovation, avoid improvising. The National Kitchen and Bath Association recommends planning the project for at least six months before giving it a go. This way, you can take every little detail of the project into account During this stage, it's also important to create a budget, which should take into consideration the cost of the materials and labor, as well as the shipping, delivery, installation, and permits. It's also a good idea to set aside an extra 10 to 15 percent of your budget in case unexpected costs arise.
To keep track of your bathroom renovation, you should also set a timeline or expected time frame for completion. Remodeling your bathroom can take up a few days — maybe even weeks depending on the extent. If you're redoing your main bathroom, you may have to make a few adjustments in the meantime. You may have to use a second bathroom or arrange temporary accommodations if you're remodeling the only bathroom in your home. By sticking to your schedule, you avoid any delays or extensions.
Determine Your Needs
While renovating your bathroom, it's easy to get lost in the aesthetic features, like a piece of vanity top or lighting fixture. However, you should also focus on the functional needs of the space. One detail that homeowners usually overlook is bathroom ventilation. Without the right ventilation, toxic mold may thrive in your bathroom. To prevent mold growth, be sure to invest in a quality bathroom vent complete with an exhaust fan and a humidity-controlled switch that automatically detects excess moisture in the air.
Meanwhile, if you live with an elderly or a family member with mobility issues, it would be wise to consider the benefits of accessible remodeling — something that DreamMaker Bath & Kitchen of Greenville can help you with. Our Independence by Design™ service allows us to incorporate safety, function, and beauty into your home remodeling project. You can count on our team of design consultants and installers to deliver a design customized to your needs, resulting in a living environment that caters to anyone regardless of age and ability.
Talk to Your Contractor
No matter the extent of your bathroom remodel, clear, concise communication between you and your choice of contractor is extremely crucial. Otherwise, you may end up with misunderstandings that can compromise your project's progress. If you have questions or concerns that need clarification, bring them up to your project manager. It's never a good thing to make assumptions as these can lead to delays and other problems. For best results, schedule a daily meeting to get updates.
If you plan to stay in your house during your bathroom renovation, let your contractor know. It's also smart to tell your contractor if you're working from home or your kids are attending online classes. Doing so allows your contractor to minimize significant disruptions.
Let's Start a Conversation!
Are you renovating your bathroom soon? Get in touch with the pros at DreamMaker Bath & Kitchen of Greenville! You can rely on our team to ensure your bathroom remodel is as stress-free as possible, from getting your bathroom quote to putting the finishing touches. To schedule a consultation with us, call (864) 214-0296, or fill out our contact form. We are happy to accommodate homeowners in Greenville, Greer, Mauldin, Simpsonville, Fountain Inn, Taylors, Travelers Rest, Easley, Piedmont, and Spartanburg.