---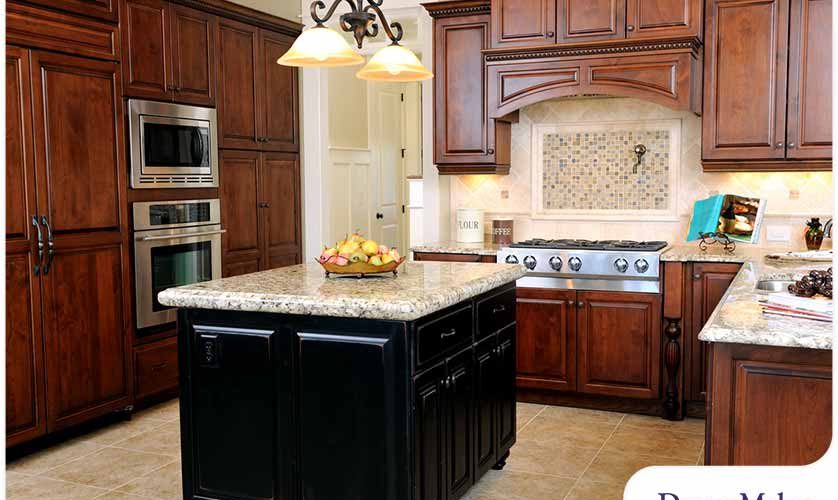 ---
Most kitchen styles fall on either side of the conventional interior design aesthetic. Traditional or contemporary. But what if you merge the two? You get a space that looks harmonious, timeless, and stunning. Trusted home remodel specialist DreamMaker Bath & Kitchen of Greenville takes a look at the elements and features that you can find in a transitional kitchen.
What Are Transitional Kitchens?
Transitional kitchens borrow elements from both traditional and contemporary styles. They're designed to be visually pleasing with various visual and practical design elements to maximize convenience. The unique combination draws attention without standing out too much. The new yet familiar take on different features evokes curiosity and appreciation of the beauty of both design concepts, making the transitional style worth incorporating into the kitchen space.
Design Tips to Consider
The simple yet elegant allure of a transitional kitchen doesn't happen by accident. Careful planning and consideration are required to achieve a design that comes with contemporary nostalgia. Consider these helpful tips when designing your transitional kitchen:
Incorporate Wood Flooring
The floor is typically one of the largest surface areas in your transitional kitchen remodel, so you need to choose the right material that suits your interior design. Wood can be a great choice since it's relatively easy to maintain its beauty and appeal. It's available in different options and designs so it won't be hard to find the right style that adds the right amount of warmth and character to your kitchen space. And it can last for many years with regular maintenance!
Consider Additional Storage Options
Transitional kitchens are meant to be simple yet attractive in design. Consider redesigning your current storage system as part of its unique appeal with additional options to minimize clutter in the space. This will also help you later in the long run by making it easier to clean and manage your kitchen. Investing in custom drawers and cabinets is also worth considering, especially if they offer more storage for smaller appliances and utensils. Don't forget to add some open shelving to break up your cabinetry and display some of your most-used appliances, utensils, and other decorative items.
Add Brass and Geometric Tiles
Brass finishes and geometric tiles are steadily gaining popularity in interior design in recent years. The material feels noticeably different compared to steel, chrome, and aluminum, giving off a warm and tactile feel that adds classic elegance to your transitional kitchen remodel. It's hard to deny how it feels premium and comfortable to touch. Consider this for kitchen cabinet door knobs, faucets, switches, and other fixtures. Meanwhile, geometric tiles combined with dark grout lines are also worth considering, especially in small surface areas within your transitional kitchen space. They may look simple but easily add more appeal without looking too out of place!
Let's Start a Conversation!
For your kitchen renovation needs, get in touch with DreamMaker Bath & Kitchen of Greenville today! Count on our trusted team of experienced remodelers to walk you through every step of our streamlined process to ensure your vision for your kitchen space is realized and you get results that meet your every need. Give us a call at (864) 214-0296, or fill out our convenient contact form to get started! We serve Greenville, Greer, Mauldin, Simpsonville, Fountain Inn, Taylors, Travelers Rest, Easley, Piedmont, and Spartanburg residents.