---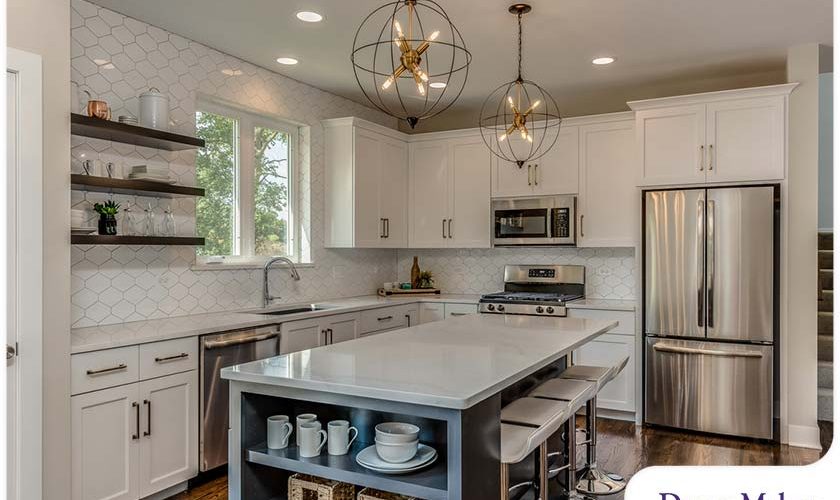 ---
You can either deck your kitchen with sleek finishes and a contemporary design or go the other way and choose natural materials and a cozier, more rustic look. If you're leaning towards the latter, then you'll fall in love with a cottage-style kitchen. This classic design is easy enough to integrate into your existing kitchen. Let the premier kitchen contractor in the area, DreamMaker Bath & Kitchen of Greenville, share how.
Keep It True-Blue Cottage
A traditional cottage-style kitchen is characterized by several distinctive features. These include:
Stone flagstone floors
Warm wood countertops
Exposed ceiling beams
Worn-looking paint
Butler sinks
Shaker-style cabinets
Brushed gold or brass finishes
Simple crown molding
Vintage lightings, such as pendant lights in brushed nickel or frosted glass
Ceramic tile with a simple pattern and a muted color for the backsplash
As for the palette, light colors are the classic choice, with shades of white as the enduring favorite. Beadboard paneling is usually incorporated into the walls, ceilings, and island as well.
Give It a Modern Update
Those who aren't a stickler for tradition are free to add a few modern touches to their cottage-style kitchen. This way, the space won't look too rustic and out of place with the rest of the home. For instance, you can choose light-colored stone instead of wood for the countertops. You can also introduce a bold color into the space by way of the kitchen island, or pick pastel shades for the cabinetry instead of the usual white. When done right, these features can give your cottage-style kitchen a sleeker look without losing its warm and cozy vibe. You can consult a trusted kitchen remodeler like DreamMaker Bath & Kitchen of Greenville on how to make these elements work beautifully together.
Don't Overlook Comfort
What makes a cottage-style kitchen popular is its focus on comfort. It makes this possible through light or neutral color palettes, the use of natural materials, and increased access to natural light. But make sure to take furniture into account as well. Treat yourself and your guests by creating a cozy nook filled with cushioned seating and fluffy fabrics.
Does the cold metallic gleam of modern appliances somewhat detract from the friendly vibe of your space? You can try to conceal them by incorporating them into the cabinetry. This visually opens up the kitchen and allows for cleaner, smoother lines. To free up valuable countertop space, you can also house smaller appliances, such as coffee machines, toasters, and microwaves, in the cupboards.
We'll Make Your Remodeling Dreams Come True
Look up "trusted remodeling contractor near me" online and you'll find DreamMaker Bath & Kitchen of Greenville at the top of the search results. Homeowners in Greenville, Greer, Mauldin, Simpsonville, and Fountain Inn, SC, know they can always count on us for high-quality solutions to their kitchen renovation needs. Call us today at (864) 214-0296, or fill out this contact form to schedule a design consultation. If you'd rather visit our design center, it's open to serve you on weekdays.