---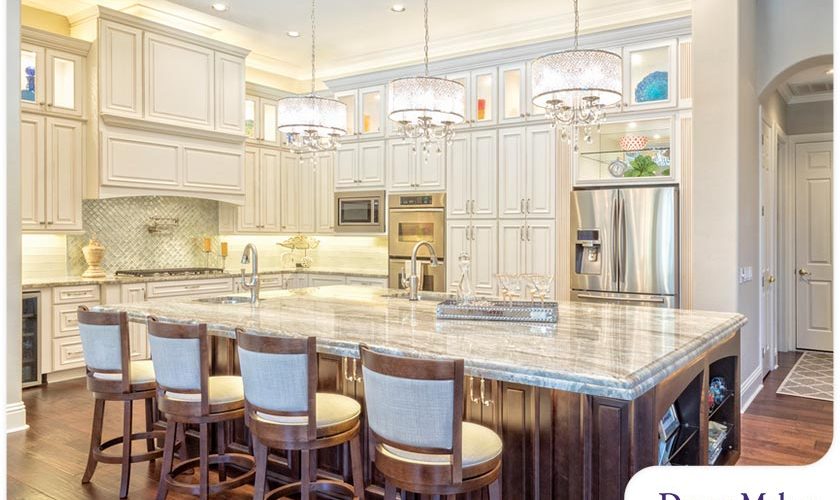 ---
Often the focal point of the entire kitchen, the island can serve as a casual gathering spot for your family or additional countertop space for meal preparation. For this reason, it's important to properly light it. Since there are many ways to light a kitchen island, you need to develop a plan with your kitchen remodeler. To help you get started, DreamMaker Bath & Kitchen of Greenville has a step-by-step guide.
Step 1: Measure Your Space
Before you buy lighting fixtures, be sure to evaluate the size of your kitchen island. To begin, measure the length, width and height of the island. These measurements will help you decide on the size and number of lights to hang above it. In general, lights should be centered and hung 30 to 36 inches above your island countertop.
One way to check how much light your space needs is by looking at lumens, which is the amount of light a bulb emits. As a rule of thumb, you need 35 to 50 lumens of light per square foot to adequately light your kitchen island.
Step 2: Decide the Type of Light You Want
Once you've measured your kitchen island, it's time to decide what type of lighting you want. Consider the following three choices:
Pendant lights. They are one of the most popular and versatile kitchen lighting options. You may want to install two large pendants, or you may choose multiple small pendants that provide fewer lumens but together deliver the amount of light you need.
A linear chandelier. This fixture is becoming popular among homeowners. Unlike pendants, where multiples can be installed, you will be wiring just one fixture with a linear chandelier. However, one of the limitations of a linear chandelier is its ability to adequately light a large kitchen island.
Recessed lighting. This may serve as the primary source of light, especially if you have low ceilings. When designed properly, recessed lighting can transform the look of your kitchen. Consult your kitchen contractor to ensure it is installed correctly.
Step 3: Choose the Shade
Finally, you need to decide on the ideal shade for your lighting fixture. The shade on a light affects the amount of light it provides. Here's how each type of shade changes the amount of light your space receives:
Metal shades. These create focused light and are best used for tasks such as food preparation.
Glass shades. These play a key role in improving the mood and ambiance of your kitchen. Choose between opal glass that diffuses light or clear glass that projects light and boasts a decorative bulb.
Linen shades. These add a refined look to your kitchen and provide soft, relaxing light. Since linen diffuses light, consider a bulb with higher lumens to effectively light your space.
Let's Start a Conversation!
Instead of searching online for a "contractor near me" for your home remodeling project, get in touch with the pros at DreamMaker Bath & Kitchen of Greenville. With our streamlined process and personalized service, we can make your dream kitchen a reality! Call us today at (864) 214-0296 or fill out our contact form to request an appointment. We proudly serve homeowners in Greenville, Greer, Mauldin, Simpsonville, Fountain Inn, Taylors, Travelers Rest, Easley, Piedmont and Spartanburg.