---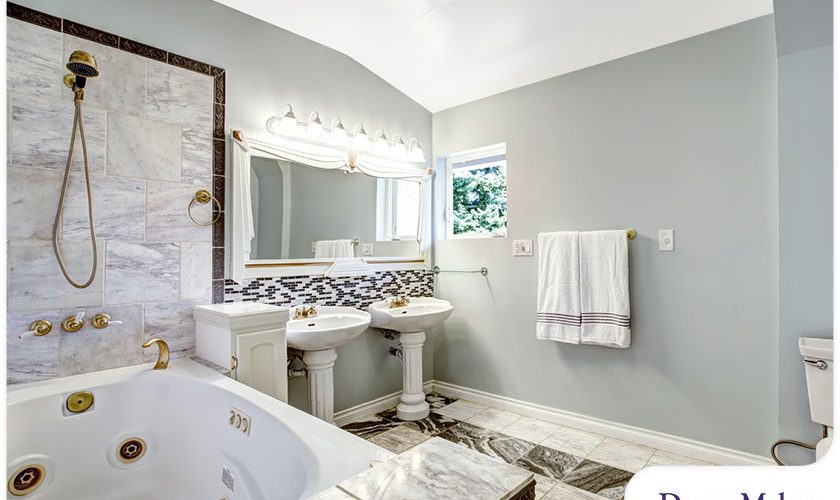 ---
The paint color you choose for your walls has the power to transform your bathroom. Some colors make a small space feel bigger, while other shades can help brighten windowless rooms. If you're having a hard time choosing a color for your bathroom space, DreamMaker Bath & Kitchen of Greenville is here to help.
Classic & Sophisticated
A white bathroom is a common choice, but it can be strikingly beautiful with creamy white walls. This classic choice makes your bathroom look clean and crisp. Since top-to-bottom white is a bit much, you may want to consider warming things up by using softer neutrals. If you're feeling bold, try bright and colorful accessories such as yellow and pink.
For a more dramatic look for your bathroom, charcoal black is another excellent choice. It's moody and dark but has some warm and sophisticated elements, making it quite a versatile shade. If you're interested in adding a contemporary edge to your bathroom space, charcoal pairs well with natural wood tones and metallic accents.
Keep It Neutral
Looking for a neutral color that can still give your space some warmth? Choose taupe for your bathroom remodel. Taupe is available in many shades, with each creating a slightly different mood. A darker taupe offers an earthier look, while a grayer version is moodier and more modern. If you want to add a secondary color, a lighter shade of taupe works well with a purple base.
Light gray is another neutral hue that has a cooling edge. To add warmth to your space, consider mixing in dark wood elements in the flooring or furniture. Since soft gray goes well with many other colors, you may want to add pops of color with accessories such as bright orange towels or a pink shower curtain.
Be One With Nature
When you think of nature, relaxation and comfort always come to mind. Brown creates a calm, spa-like atmosphere. Dark brown offers a more dramatic feel and looks edgy when paired with metallic gold accents. Meanwhile, a medium brown tone is more relaxing and soothing. Be sure to pair it with details in lighter tones.
Another nature-inspired shade for your bathroom is light green. It brings the energy of the outdoors into your home. It's a calming color that also produces a cooling effect in a bright and sunny room. If you paint your bathroom with this hue, mix it with other earthy tones such as brown, taupe and sand.
Let's Start a Conversation!
For a home remodel, look no further than the qualified professionals at DreamMaker Bath & Kitchen of Greenville. Our experienced team of designers and installers can design a bathroom that fits your unique needs and preferences. Call us today at (864) 214-0296 or fill out our contact form to schedule an appointment. We proudly serve homeowners in Greenville, Greer, Mauldin, Simpsonville, Fountain Inn, Taylors, Travelers Rest, Easley, Piedmont and Spartanburg.