---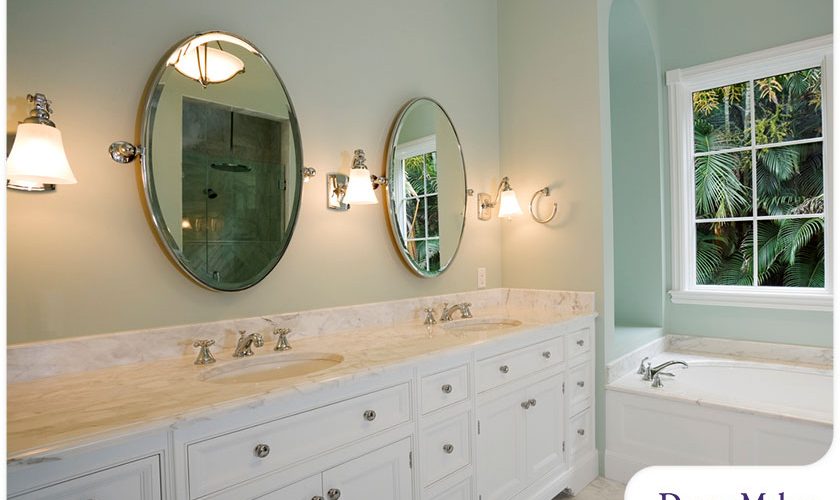 ---
Any bathroom remodeler will tell you that lighting is essential, even if you have a small bathroom. While it may be tempting to install a single ceiling light, to be able to accommodate the variety of tasks performed in the bathroom, you want a variety of different lighting types. Unfortunately, homeowners often make the mistake of putting lighting low on the list of priorities when remodeling their bathrooms (or any room in their house, for that matter). With that said, here are three do's and don'ts that will greatly improve the quality of your bathroom lighting!
Don'ts
Not installing enough lighting. As mentioned above, a lot of people think that one lighting fixture is enough to illuminate a small bathroom. However, a single source of light is often insufficient. Even if your source of light is in the center of the room, it can make certain tasks like applying makeup or shaving difficult.
Using the wrong color temperature. Ambience is very important, especially if you like relaxing in your bathroom. A common mistake that homeowners make is buying a box of light bulbs and using them for every room in the house. The light bulbs may be too bright or too cool, throwing the ambiance off. If this is the case, your bathroom contractor may recommend that you update your light bulbs. For the bathroom, we recommend bulbs that give off a warm light.
Do's
Layer lighting. To put it simply, layering your lighting involves making use of several light sources to achieve a balanced effect. Aside from a fixture that you use for general illumination, install ambient lighting to create a specific mood as well as task lighting for specific areas such as on either side of the mirror so that you can see yourself clearly during your beauty routine.
Put lights on dimmers. This is a simple and inexpensive way to give your bathroom lighting more flexibility. You can dim your lights if you want to soak in the bathtub, or turn them all the way up if you need to maximize illumination.
Let's Start a Conversation!
For all your bathroom remodeling needs, instead of randomly searching online for a "bathroom contractor near me", give the bathroom pros over at DreamMaker Bath & Kitchen of Greenville a call at (864) 214-0296. You may also fill out our online contact form to request a callback from one of our friendly team members. We serve residents of Greenville, Fountain Inn, Easley, Piedmont and nearby areas. Get in touch today!