---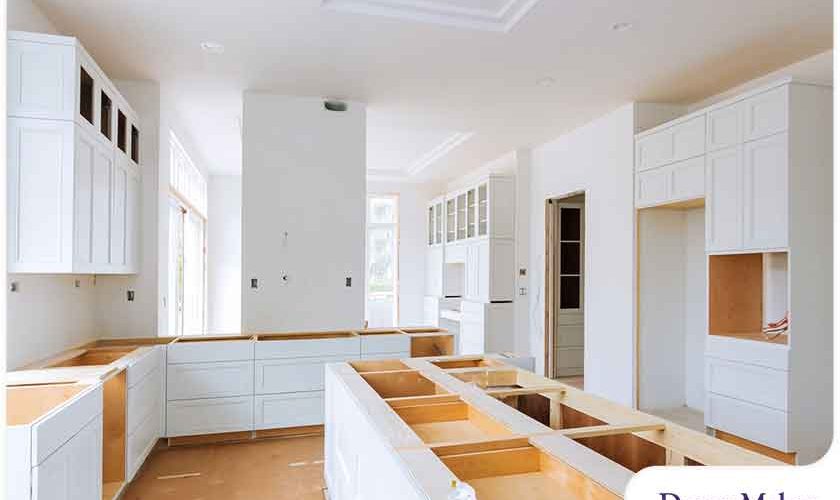 ---
An understanding of the stages of kitchen remodeling can help you make the best possible decisions in terms of design, style, quality and budget, and keep you on the right track. In this article, DreamMaker Bath & Kitchen of Greenville, a trusted kitchen remodeler, breaks down the basic steps of a kitchen remodel.

Tear-Out & Disposal

At this stage, your new kitchen layout has been designed, all necessary building permits have been granted and the materials are ready for delivery. The primary stage of the actual construction process involves tearing out the outdated kitchen and disposing of all materials and components that cannot be reused.

Structural Repairs

Repairs can be done once the tile backsplash, cabinetry and flooring have been completely removed. Holes in the drywall, scrapes on subfloors and damage to the ceiling will be exposed and must be patched up before the renovation can proceed. It is best to thoroughly clean up the area before any further inspection. This will allow your remodeler to have a good look at the damage and plan for structural repairs that are required for the support and stability of your new kitchen installation.

Assessment of Electrical, Mechanical & Plumbing Systems

New kitchen lighting will likely require additional wiring. Hire a qualified technician to move existing appliances and install new ones. To create a brighter space, consider adding under-cabinet lights.

Similarly, mechanical systems also need to be checked at this stage. A large vent over the stove is a staple of a modern, energy-efficient home. This creates better airflow in the kitchen and helps exhaust strong odors from cooking.

Plumbing is also an essential part of a well-designed kitchen remodel. Be sure that a certified plumber is on site to install your new plumbing system and avoid dealing with costly mistakes, such as faulty connections and undersized pipes, in the future.

Installation of Flooring & Cabinetry

Luxury vinyl and porcelain tiles are popular flooring choices for kitchen renovations. You may also opt for solid or engineered wood flooring that blends into other living areas to create a grander and more airy space.

Your new kitchen truly begins to take shape with the installation of cabinets, whether mounted on the walls or attached to the subfloor. These structures not only act as storage, they also provide support for your countertops, appliances and sinks, and hide the plumbing and electrical running through the room.

Installation of Counters, Backsplash & Appliances

Your countertops should be durable and attractive. This element is often the focal point of a kitchen and choosing the right material will elevate your space. As for the backsplash, stylish and low-maintenance tile can protect your kitchen walls and add a personal touch to the room's design. Appliances are the last things that go into a kitchen. Be sure to have the power and water hooked up, as well as the gas lines.

Let's Start a Conversation!
DreamMaker Bath & Kitchen of Greenville specializes in kitchen renovation solutions. We proudly serve homeowners in and around Fountain Inn, Mauldin, Piedmont and Greenville, SC. Give us a call at (864) 214-0296 or fill out our contact form to set up an appointment.