---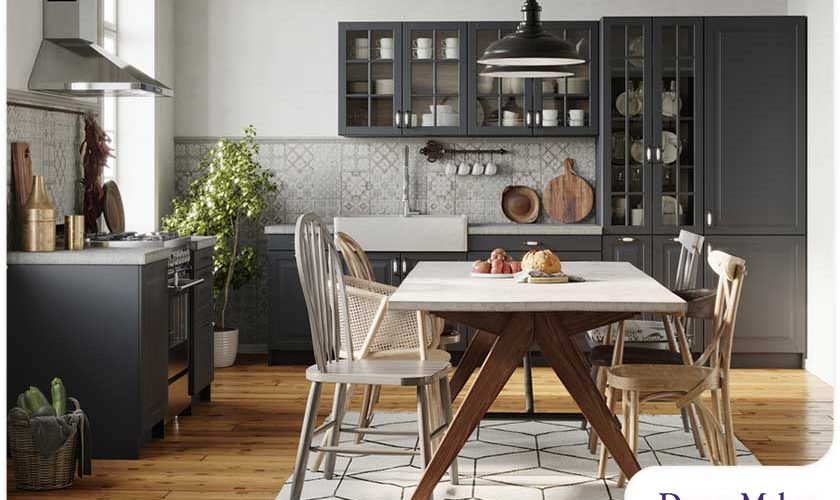 ---
An L-shaped kitchen is ideal for homes with open floor plans and helps maximize work surfaces in small kitchens. It's worth considering regardless of your kitchen's size and, in today's post, local kitchen remodeler DreamMaker Bath & Kitchen of Greenville has tips for designing an L-shaped kitchen.

What Is an L-Shaped Kitchen?

In an L-shaped kitchen, two walls form a 90-degree angle. The main work areas and cabinetry are installed on these walls, which creates an L-shaped footprint. The right placement of elements such as countertops, cabinets and appliances helps maximize space without sacrificing efficiency. It also is the perfect layout for incorporating the kitchen work triangle which consists of the refrigerator, sink and cooktop.

The Basics of an L-Shaped Kitchen

An L-shaped kitchen's layout creates an open and multifunctional space that can be utilized as needed: more room for movement or maybe use it to install an island or a dining table. Plan your kitchen remodel according to how you perform your kitchen tasks. If you have already developed a routine or are already utilizing a kitchen work triangle, then this is a good starting point for your design. The sink can be positioned where there's existing plumbing. The refrigerator and cooktop can be positioned within a couple of steps on either side of the sink. You can then add components like the prep area and storage cabinets.

Design Tips & Ideas

The beauty of an L-shaped kitchen is in its simplicity, which makes it a virtual blank canvas. The following are some design tips and ideas to get you started with your L-shaped kitchen design:

Plan your lighting. An L-shaped kitchen isn't always situated on an exterior wall. Yours may be placed in a windowless spot, so you need to make sure that the kitchen has ample lighting. In addition to full electrical lighting, consider solar tubes or a skylight as your main source of daytime lighting.
Take out a wall. If your project allows taking out an exterior wall, consider having a patio door installed on the wall that faces the kitchen, connecting the latter to a deck or patio. In addition to letting in lots of natural light and giving your kitchen an open look, imagine how easy this will make your backyard parties!
Install an island. A kitchen island is one of the best ways to extend your kitchen storage and work areas without making the kitchen look cluttered. A multifunction kitchen island is best for relatively small homes. It can work as an informal dining area or even replace the dining table, which could free up more space.
Let's Start a Conversation!
DreamMaker Bath & Kitchen of Greenville is ready to bring your kitchen renovation dreams to life. Give us a call at (864) 214-0296 or contact us online to schedule an in-home or virtual consultation. We serve homeowners in Greer, Mauldin, Simpsonville and the surrounding communities.