---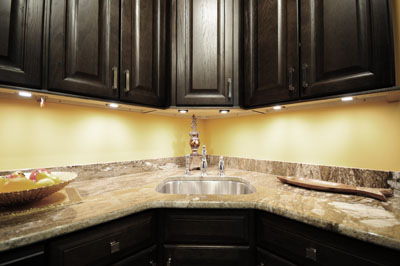 ---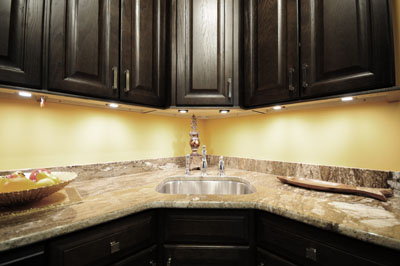 How can you maximize the function of your kitchen? One section homeowners almost always overlook are the kitchen corners. We can install corner kitchen cabinets in these areas for optimal efficiency. Plus, cabinets smack in a corner is quite funky looking.
What to Do with the Corner Space
The kitchen corners don't have to be throwaway space. Some homeowners may improvise by placing small floating shelves. However, we recommend going a step further by installing angled cabinets. Even in homes with existing corner cabinets, homeowners often use the space for storing seldom-used items.
Angled cabinets, though, are ideal for adding swiveling shelves or carousels. This makes the space useful for storing away countertop appliances while keeping them within easy reach.
Corner Cabinet Design Ideas
Concave-Shaped Drawers: Instead of sharp corners, consider rounded corners for the countertop. The cabinet doors below will also take a rounded shape that curves inward. See this image for an example of an inward-curved cabinet.
Corner Sink: Instead of just a corner cabinet, why not go further and also add a corner sink? The corner cabinet below then serves as the area for the pipes. This frees up space for the regular lower cabinet sections. A corner sink and vanity, by the way, also works for a bathroom.
Corner Pull-Out Shelves: The corner cabinets are the ideal place for pull-out shelves. We can design pull-outs so that they not only pull out but also rotate. This is the ideal location for cooking pots and utensils in use daily.
We Install Corner Kitchen Cabinets
Ready for a renovation? Call DreamMaker of Greenville for a complete or partial home makeover. We can incorporate various and unconventional design schemes for your kitchen. Corner kitchen cabinets are one way to add a somewhat odd yet delightful charm to the space.
Serving homes and businesses in Greenville and Greer, Mauldin, Simpsonville, Fountain Inn, Taylors, Travelers Rest, Easley, Piedmont and Spartanburg