---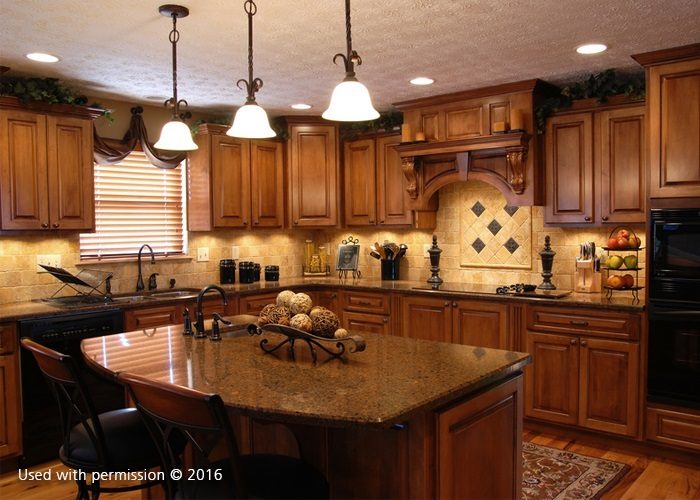 ---
Installing a new kitchen island is a great way to get additional counter space and storage space. However, you shouldn't install an island without carefully planning for it. You or your contractor will need to measure your kitchen and see if it has enough space for the kitchen island design you would like to use. DreamMaker Bath & Kitchen of Elizabethtown, a home renovations expert, explains more.
Kitchen Island Height
Counter heights of about 35-37 inches from the finished floor are common. When in doubt, always use the height that is most comfortable for your family. Remember to take the thickness of your countertop into account when determining the height of your kitchen island. Granite countertops, for instance, can be 1.5 inches thick.
Space Around the Kitchen Island
You need to plan for adequate room around your kitchen island to avoid poor traffic flow. Plan for at least three feet of space between the island and the walls, countertops in the kitchen and furniture. This should leave enough space for people to move around the island without having to turn sideways. For working areas around the island, the ideal space is around four feet.
Leg Room
If you plan to use your kitchen island as a dining area, then you need to make sure that the depth of the leg room under the countertop is enough for diners to sit comfortably. In addition, the height of your kitchen island should also be lower to allow people to sit. For example, if your sitting area is 2.5 feet high then it should have at least 18 inches of leg room.
DreamMaker Bath & Kitchen of Elizabethtown can make your kitchen renovation or any other home improvement project a success. We have many years of experience and have worked on all kinds of kitchens. We know how to design kitchen islands that will fit your kitchen and meet your specific needs. Call us at (717) 298-3830 to learn more about our services and products, or to request a consultation.