---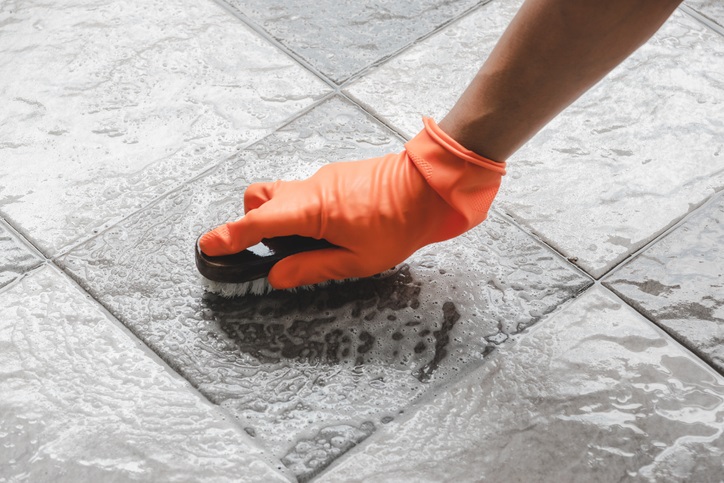 ---
If you're in the market for bathroom remodeling services, you may be overwhelmed by the endless choice of colors, sizes, styles, shapes, finishes and materials to choose from for your bathroom floors. Here are the most common materials used for bathroom floors.
Ceramic
Ceramic is the perfect tile surface for moisture-prone areas. Tiles are commonly made from clay fired in a kiln and finished with a durable glaze that makes them dense, nonporous and stain-, fire- and slip- resistant. Ceramic floor tiles are suitable for bathrooms that have light to moderate traffic. Ceramic also has a high water absorption rate that makes it impervious to water penetration and stains.
Porcelain
Porcelain tiles carry their color and pattern through the entire thickness of the tile, which makes them a hard and dense tile. Suitable for floor applications even in the highest-traffic areas of the home, they're great for bathrooms. They have a hard-wearing, stain- and scratch-resistant surface that's easy to clean and maintain.
Stone
Natural stone tiles, including marble, limestone, travertine, slate and granite, need to be sealed to keep the material free from surface stains and damage. Stone materials have an aesthetically pleasing yet hard-wearing surface, but are vulnerable to damage from bleach and harsh chemicals.
Glass
Mosaic tiles have endless options in color, style and size but tend to be quite slippery when wet. Glass mosaic tiles are relatively easy to clean but tend to have a lot of grout lines that involve a lot of cleaning.
When buying tile, choose a material that has a high slip rating. This is the measure of the long-term wear throughout the life of a floor, taking into consideration the installation process, wear characteristics, cleaning maintenance and anticipated traffic.
Design Your Dream Bathroom With DreamMaker
If you're thinking of remodeling to get the exact bathroom flooring solutions you need, don't hesitate to get in touch with DreamMaker Bath & Kitchen of Elizabethtown. The best bathroom remodeler  around, we know how to address all of your unique needs. Just give us a call today at (717) 298-3830 or fill out our online contact form to get started!