---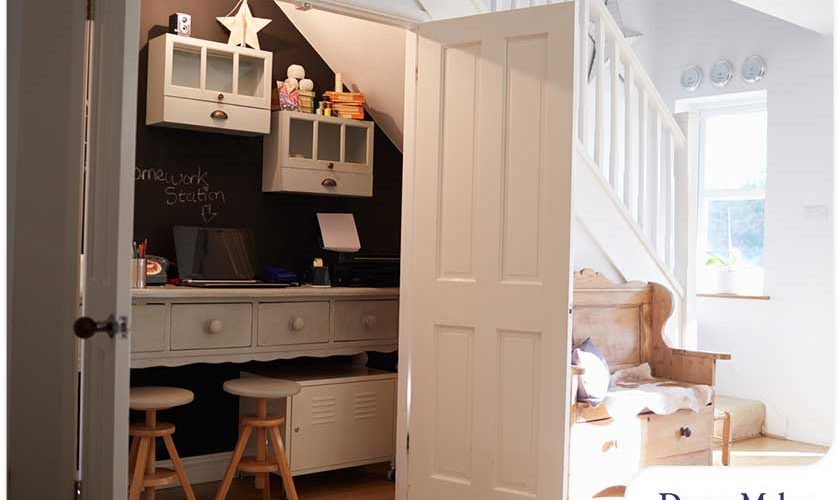 ---
Every square inch of space counts, especially if your home is on the small side. So if you've got some space to spare under your main staircase, put it to work! With a bit of creativity, that underutilized area can be transformed into something both beautiful and functional. As your trusted local home remodeling contractor, we've got a few favorite ideas for that often-forgotten space.

1. Reading Nook

Cozy reading nooks are some of our favorite things to build underneath staircases. They don't just provide a home for extra books and knick knacks you may have scattered around the house; they give them pride of place. Add shelving, adjustable lighting, a comfortable seat and even a privacy curtain, and you've got the perfect retreat for anyone in need of a break.

2. Storage Space

Many of our interior remodeling projects feature clever storage under the stairs. But you don't have to limit yourself to a basic coat closet! We have skilled carpenters who can custom-make a storage system that makes sense for your space—you can add built-in shelves, pull-out shoe cabinets, toy cubbies … the sky's the limit.

3. Compact Office

Need a dedicated space to work? If your stairs aren't next to a busy room or tight hallway, you've got a potential home office right there! Don't let the tiny footprint discourage you: with some well-designed built-ins, a comfortable chair and good lighting, you can have an organized workspace that helps you stay productive and focused.

4. Display Corner

Some of us have interesting collections and conversation pieces but no place to put them. Under the stairs can be the perfect place for these items, where they can be safely out of the way of foot traffic but still visible. Lighted shelves are a great way to display your collections and turn them into eye-catching décor.

5. Laundry Space

Don't have a laundry room? Why not turn the space under your stairs into a laundry closet? Having a dedicated space for laundry will improve your quality of life and increase the value of your home too. Just make sure you work with a professional who can ensure a correct fit and install everything properly and to code.

Let's Start a Conversation!
DreamMaker Bath & Kitchen of Elizabethtown is your best choice when it comes to home renovations. We use a distinctive, full-service approach to carry out all remodeling projects, regardless of size and scope. Call us at (717) 298-3830 or fill out our contact form to schedule a virtual appointment. We serve residents of York, Lititz, Camp Hill, Mechanicsburg and many other nearby communities.