---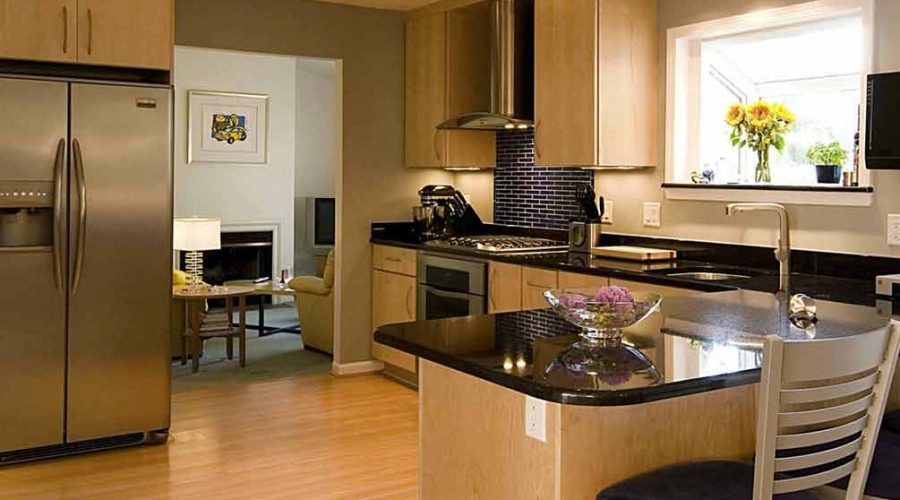 ---
Upgrading your kitchen is one of the best investments you can make because the kitchen is one of the most important parts of your home. A stylish, beautiful and functional kitchen can improve how you live. The start of the year is the perfect time to browse transitional kitchen design ideas and start to plan a kitchen remodeling project. Today, we'll talk about kitchen design trends that will be a hit in 2019.
1. Industrial Countertops
Industrial countertops with textural surfaces will become more popular this year. Concrete, in particular, will be a standout material. Concrete countertops are durable, strong and naturally resist chipping and scratching. They also have invisible seams, age beautifully and resist stains, making them a great choice for many kitchens.
2. Premium Sinks
Beautiful craftsmanship will be a key trend in 2019. Unique handcrafted sinks are a great way to incorporate this trend. Fortunately, you can choose from a wide range of premium sinks including hammered copper sinks, colorful granite sinks and rugged sandstone sinks.
3. Handmade/Organic Tile
Consider organic or handmade tile for your kitchen backsplash. This tile looks hand-hammered with a distinctive texture and tone that makes it visually appealing. Handmade tile doesn't need fancy graphic designs because it looks great even in various shades of white.
4. Forged-Iron Cabinetry
Black will be the "it" color for 2019, but it's important not to overdo this color in a kitchen. One of the ways you can use it as an accent for your kitchen is through forged-iron cabinetry. As an experienced kitchen remodeling company, we think this cabinet style looks both elegant and edgy. It's also an excellent way to showcase great craftsmanship and design.
Allow DreamMaker to Transform Your Kitchen Into Something Great
DreamMaker Bath & Kitchen of Elizabethtown can transform your kitchen and make it look fantastic. We're proud of our superior craftsmanship and our full-service remodeling process. We do everything we can to make our customers' remodeling projects as quick and stress-free as possible. Call us at (717) 298-3830 or contact us here to learn more about our services and products.