---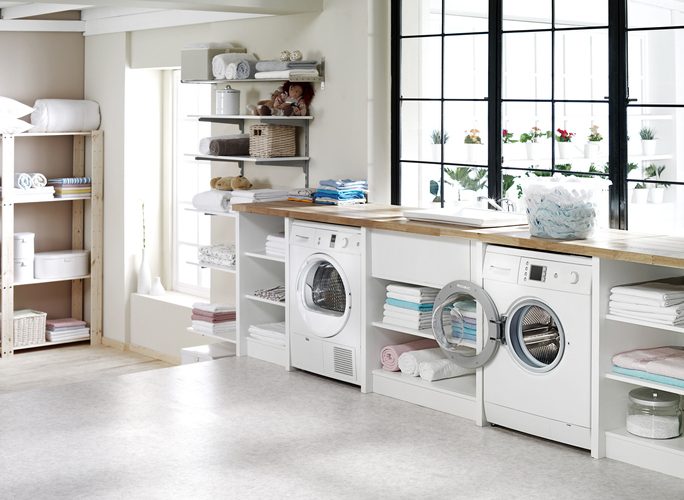 ---
Ahhhh, laundry rooms. We either love them or hate them. Whichever way you lean, you can use these storage ideas to make the most of what your laundry room has to offer.
Add shelving to unused corners. There are a lot of shelving options out there, so there's sure to be one that will fit the unused corners in your laundry room. Ask your home remodeling contractors to help you find a solution and you'll be able to utilize every inch of space you have available, which is particularly handy for those with smaller laundry rooms. Depending on what you require, you can use the shelving to store detergent and other cleaning supplies.
Invest in baskets. Keeping your laundry room organized is all about making sure that everything has its own place, and baskets are perfect for this purpose. You can use baskets of different sizes to store various supplies, but be sure to opt for those that are similar to give your laundry room a clean, uniform look. Keeping things neat can do a lot to make your laundry room look appealing.
Use pedestal drawers. Pedestal drawers are designed to fit under washing machines and dryers. They create convenient storage space directly underneath each appliance, providing easy access to supplies. What's even better is that many newer washer and dryer models offer the add-on, automatically giving you storage when you upgrade your appliances during a remodel.
Transform Your Home With DreamMaker
DreamMaker Bath & Kitchen of Elizabethtown is the expert to call on for all your interior remodeling needs. No matter the scope of your laundry room remodel, you can count on us for storage solutions that work because they are designed to address your needs specifically. To learn more about what we can do for you and your home, just give us a call at (717) 298-3830. Let's start a conversation today!