---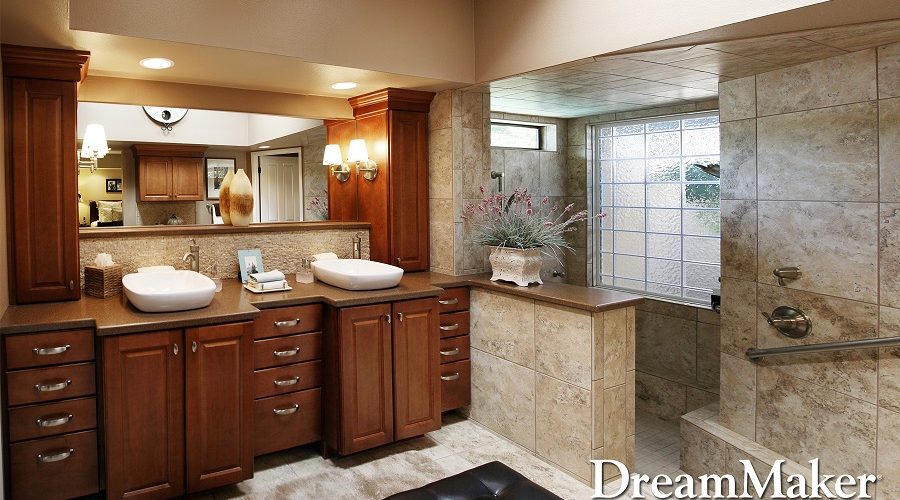 ---
Does your bathroom feel a little cramped? It's probably not your imagination. While the average size of bathrooms in many modern houses has almost doubled, those in some older houses have remained at the standard 5-by-8-foot size due to a lack of space.
Tips & Tricks to Enhance Your Bathroom Space
If you're stuck with a small bathroom, don't worry. You can increase its available space, as well as the perception of space, using these tips from your trusted custom cabinet contractor, DreamMaker Bath and Kitchen of Elizabethtown.
Let there be light. Well-lit bathrooms feel bright and airy, so it's smart to take advantage of natural light to create an illusion of space in your bathroom. You can install a skylight to fill the room with abundant lighting. If privacy is an issue, use windows with a soft frosted glass to let in a fair share of light. Additionally, installing mirrors can be beneficial because they help reflect light around your bathroom.

Make your storage smart(er). Clever storage is the key to making the most out of a pint-sized room. For instance, if vanity space is limited or non-existent, you can install shelving units above the sinks, toilets and baths. Stretching a vanity countertop across your bath surround is also a great way to dramatically boost storage space. Recessed mirrors and extra cabinets can do wonders for smaller bathrooms as well.

Use light, neutral colors. When it comes to designing small spaces, it's best to avoid dark or bold colors. Lighter colors, such as white, cream and soft pastels can easily transform the look and feel of your bathroom. If needed, you can always use splashes of bright colors in your bathroom towels, accessories or on a feature wall.
Breathe New Life Into Your Small Bathroom
If you're looking for expert bathroom design ideas, you can always count on DreamMaker Bath & Kitchen of Elizabethtown. We can help you design and create a more attractive and efficient bathroom, regardless of its size. Call us at (717) 298-3830 today to schedule a consultation.