---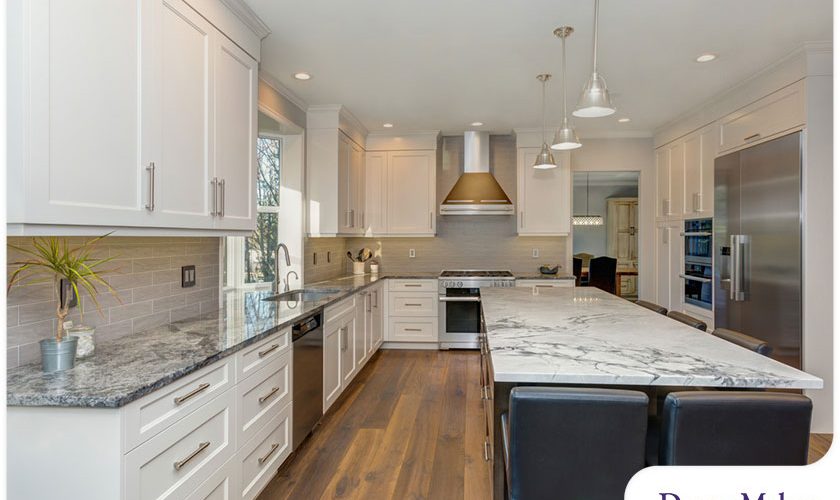 ---
Contemporary kitchens usually boast a minimalist design and feature linear, geometric shapes. While manmade materials such as steel, chrome, concrete and glass are common, many modern-day kitchens are no stranger to natural elements like granite, stone and slate. These materials put some life into the color scheme and create a more engaging space.
Today, kitchen renovator DreamMaker Bath & Kitchen of Elizabethtown reveals the style elements that characterize a contemporary kitchen design.
Elements of Contemporary Style
Cabinets & Storage
Kitchen cabinets in contemporary homes put emphasis on square or rectangular shapes, with cabinet frames typically concealed by slab-front doors. These doors do not feature recessed panels or other designs, resulting in clean and sleek lines. Some designs include pulls for lower drawers and knobs for cabinets. Storage in contemporary kitchens commonly features deep drawers for pots and pans, sections of upper cabinets with glass doors, and open shelving to break up cabinet space.
Countertops & Backsplashes
In contemporary kitchens, stone countertops are often a focal point. Favorites are marble and granite, although quartz and recycled glass have gained traction with homeowners. If the kitchen has rustic or farmhouse-style influences, wood butcher block countertops offer an eye-catching contrast. Technological innovations have also allowed for a wide variety of colors and designs for engineered stone. When it comes to backsplashes in modern-day kitchens, glass mosaic tiles, tumbled stone and various ceramic tiles are popular.
Flooring Options
Wood and tile remain the most popular choices for flooring in contemporary homes. Vinyl planks are water-resistant and low-maintenance, with the perfect balance of firmness and a comfortable feel. With an open-concept home, you want to let the kitchen flooring blend seamlessly into the living and dining areas.
Lighting for Different Tasks
In a contemporary kitchen, lighting serves a versatile purpose. For ambient lighting, the overall illumination of the room, recessed ceiling lights create a uniform light level throughout the space. For task lighting, under-cabinet lighting provides low-intensity light that can brighten the work area on countertops, as do pendant lights that are commonly used above breakfast bars and islands. Overhead lighting can be flush to the ceiling. A formal kitchen may feature a chandelier or mini-chandeliers.
Let's Start a Conversation!
If you are looking for a "kitchen contractor near me", you can count on DreamMaker Bath & Kitchen of Elizabethtown, a leading source for top-quality bathroom and kitchen remodeling solutions. Our expert staff will help you create a space that adds style and functionality to your home, enhancing the quality of your life. Call (717) 452-4942 or fill out our online form to start a conversation with us. We serve clients in Elizabethtown and the surrounding areas including York, Camp Hill, Manheim, Lebanon and Palmyra.