---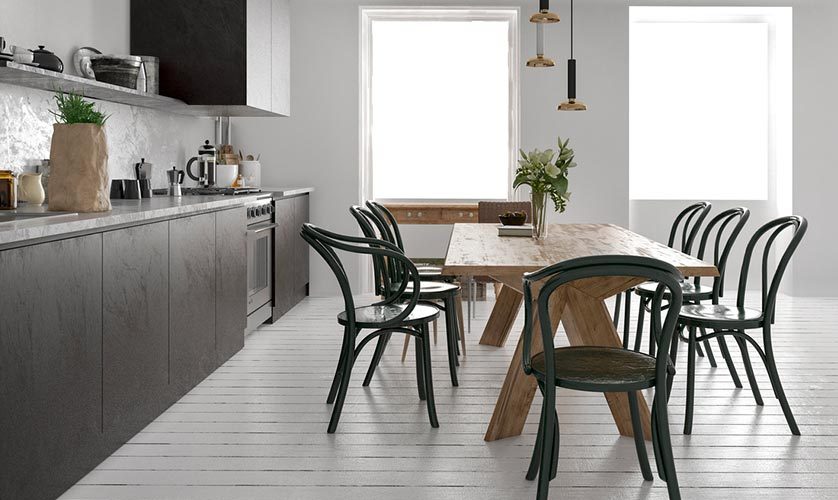 ---
Dreaming of a kitchen where you can cook, dine and spend quality time with loved ones? An eat-in kitchen might be perfect for you. In this post, we explore what this cooking space is all about, how you can create one and how a professional remodeler can help lessen the stress during the remodeling process.
The Benefits of an Eat-in Kitchen
An eat-in kitchen means more than just a place to whip up meals. It's a hub for casual dining, intimate family moments, animated conversations and more. It optimizes your home's square footage and enhances its flow and functionality.
Different Ways to Set Up an Eat-in Kitchen
There are many ways to carve out a cozy dining area in your kitchen. It helps to explore a few ideas before getting a kitchen quote.
Create a Breakfast Nook
A quaint breakfast nook in the corner with comfortable seating is often a great idea. It can be an inviting space for morning coffee or a tranquil afternoon snack.
Install a Kitchen Island
A kitchen island with bar stools is perfect for multitasking. It's ideal for cooking, dining, and engaging with family or guests.
Add a Traditional Dining Table
Surprisingly, a traditional dining table in the kitchen also works exceptionally well. Although seemingly formal, it can blend seamlessly with the kitchen's aesthetics. It can add a touch of elegance while providing practical dining space. Another efficient solution is a built-in banquette. It's a way to pair comfort with space-saving design.
Carefully Plan the Layout
Space planning is another major aspect of designing an eat-in kitchen. You want a kitchen that is efficient and looks good. Consider traffic flow and accessibility while planning the location of your dining area and kitchen elements. Choose durable and easy-to-clean materials. This is ideal if you enjoy entertaining or have young ones at home.
Pay Attention to Lighting Design
Lighting plays a critical role in setting the right ambiance for your eat-in kitchen. Overhead fixtures, recessed lights or pendant lights over the island or table are great options. They can all serve as functional and decorative elements. Consider adding unique light fixtures that reflect your style and taste.
Make the Space Your Own
For a kitchen that truly feels yours, personalize it with your favorite design elements and accessories. It could be a color scheme that soothes you or artwork that makes you smile. Adding cookware that's practical and aesthetically pleasing is also a great idea. Talk to a kitchen remodeler near you about how the eat-in kitchen should reflect your lifestyle and personality.
Let's Start a Conversation!
A beautifully designed eat-in kitchen can elevate your culinary experience and make your kitchen a more inviting place. If you are ready to reimagine your cooking space and would like a kitchen estimate, DreamMaker Bath & Kitchen of Colorado Springs is the remodeling expert to call. Reach us at (719) 350-4598 or visit our contact page to schedule a consultation!