---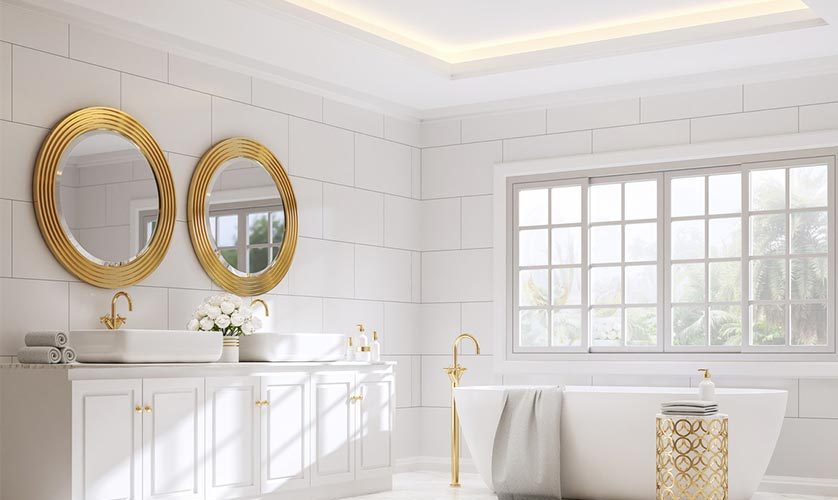 ---
Are you dreaming of a luxurious bathroom transformation? You'll find that some upgrades are worth the splurge. In this post, we explore some high-end improvements that can transform your everyday bathroom into an inviting retreat.
Statement Pieces
Imagine walking into your bathroom and being greeted by a stunning tub or an elegant vanity. Statement pieces can add an air of luxury and make your bathroom truly unforgettable.
High-Quality Tile and Flooring
Think beyond regular tiles for your bathroom remodel. Premium materials like marble, porcelain or natural stone can transform your bathroom into a luxurious haven. Plus, interesting patterns and layouts can make the flooring a design highlight in itself.
Custom Cabinetry and Storage Solutions
Who says storage can't be stylish? Custom-built cabinetry can marry functionality with beauty, making it a worthy splurge for your bathroom renovation. High-end pull-out organizers and built-in medicine cabinets are other chic storage ideas. They'll make your bathroom more efficient and organized.
Spa-Like Showers and Bathtubs
Your bathroom ought to be your personal spa. Why not spoil yourself with multiple showerheads and special steam features? You can also splurge on a deep-soaking bathtub replacement. One that includes the indulgence of whirlpool jets or built-in lighting is always worth considering.
Smart Technology Integration
Smart technology can make your bathroom an innovative and convenient space. Consider adding smart mirrors that display the weather forecast, toilets with heated seats and shower controls that remember your preferred water temperature.
Energy-Efficient and Eco-Friendly Upgrades
Investing in water-saving fixtures or LED lighting does more than make your bathroom eco-friendly. It can also save you some bucks in the long run. Low-VOC materials are another worthwhile splurge. They can help improve indoor air quality and are friendlier to the planet.
Let's Start a Conversation!
A high-end bathroom upgrade is more than just about increasing your home's resale value. It's about creating a space where you can relax and unwind. If you're ready to splurge on your dream bathroom, DreamMaker Bath & Kitchen of Colorado Springs is just a call away. Contact us at (719) 350-4598 or complete our online form to schedule a consultation.