---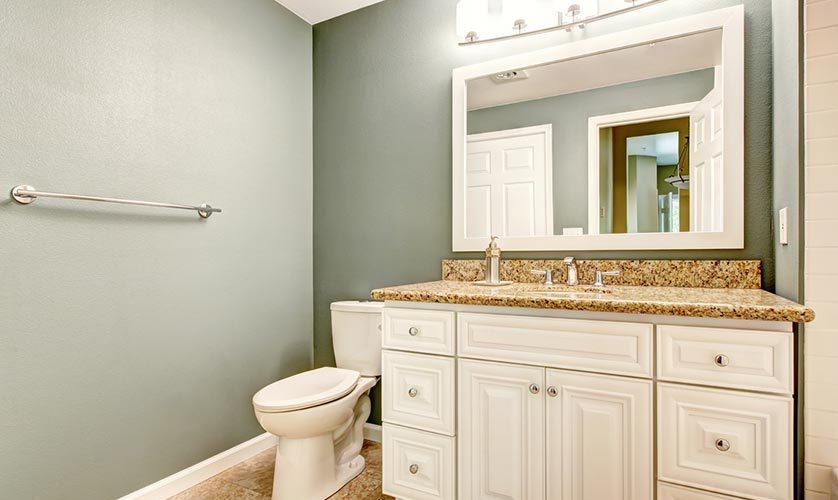 ---
A well-designed powder room not only impresses your guests but also adds value to your home. However, creating a beautiful and functional space can be challenging, especially with limited square footage. Before you start asking for a detailed bathroom quote from a prospective contractor, it helps to be aware of these design dos and don'ts.
Powder Room Design Dos
Keep in mind these powder room design dos to ensure the success of your remodeling project:
Maximize Space. Given the fact that a powder room only takes a small space in your home, it's essential to make the most of every inch available. One way to maximize space is using wall-mounted fixtures such as a toilet or sink. You can also opt for a pedestal sink or floating vanity to provide an open and airy feel to the room while still offering function.
Choose Appropriate Lighting. Proper lighting is crucial in a powder room, as it sets the mood and ensures your guests can see clearly as soon as they step inside. A layered lighting approach that combines ambient, task and accent lighting is an excellent choice to create a well-lit and inviting space. Don't forget to use dimmers for flexibility, allowing you to brighten or soften the room's lighting as needed.
Select Durable Materials. A powder room sees a lot of traffic and moisture, so choose materials that can last long despite daily use. Water-resistant flooring, such as tile or luxury vinyl, is a smart choice to prevent water damage. Opt for easy-to-clean surfaces for your vanity and walls, like non-porous quartz or sealed marble, to keep your powder room looking fresh and clean.
Add Personal Touches. Your powder room is an opportunity to showcase your unique style. Incorporate eye-catching artwork or use bold colors and patterns on a statement wall to create a memorable space. Personal touches like beautiful hand towels or a bespoke mirror can elevate the room's design and leave a lasting impression on your guests.
Powder Room Design Don'ts
When designing your powder room, take note of the following don'ts:
Make the Space Feel Overcrowded. In a small powder room, it is never a good idea to fill it up with oversized vanities or excessive decor. Stick to minimal and functional pieces that enhance the room without making it feel cramped or cluttered.
Neglect Ventilation. Proper ventilation is essential for moisture control in a powder room. Installing a high-quality exhaust fan will help prevent mold growth and ensure your space remains fresh and pleasant for your guests.
Spend Less on Storage. Even in a powder room, it's necessary to provide sufficient storage space for essentials like toilet paper and hand soap. Utilize vertical space for compact shelving or incorporate built-in storage solutions to keep your space tidy and organized.
Ignore Accessibility. When designing your powder room, consider the needs of all users, including seniors and individuals with disabilities. Install grab bars near the toilet and choose accessible fixtures to make the space comfortable and functional for everyone.
The Importance of Hiring a Professional Bathroom Remodeler
Working with a professional bathroom remodeler ensures your powder room design is both stylish and functional. They bring expertise in design and can provide accurate bathroom cost estimates and assistance in selecting the best materials and fixtures for your space.
Let's Start a Conversation!
You can find DreamMaker Bath & Kitchen of Beaverton when you search "bathroom remodeler near me" online. As the go-to bathroom remodeler in the area, we take pride in providing a distinctive, personalized approach to handling remodeling projects. Count on our team to guide you through every aspect of your bathroom remodel, from start to finish.
Call us today at (503) 214-2167, or fill out our contact form to schedule a conversation. We serve homeowners in Portland, Beaverton, Hillsboro, Lake Oswego and Tigard, as well as the nearby areas of North Plains, Tualatin, Sherwood, Wilsonville, West Linn and Milwaukie.