---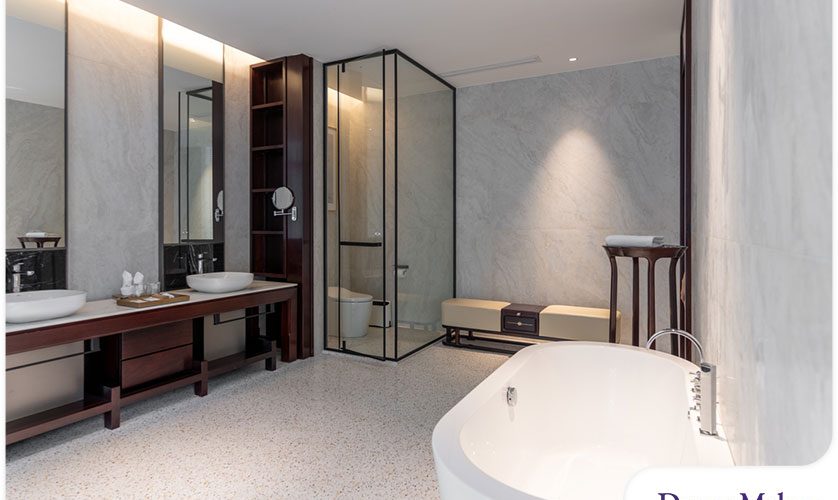 ---
The bathroom is one of the most frequently used rooms in the house and should be a place where you can relax, unwind and rejuvenate. In this post, DreamMaker Bath & Kitchen of Beaverton, a renowned bathroom remodel company, shares seven ways to create a calm, tranquil bathroom.
1. Use Scents
A scent is a powerful tool for setting the mood in any room, including your bathroom. Consider using essential oils or scented candles for a more inviting atmosphere. Lavender, citrus, rosemary, bergamot, lemon, orange and eucalyptus are perfect scents that will help turn your space into a spa-like retreat.
2. Improve Natural Light Entry
Let natural light enter through windows or skylights to create a bright, open space and introduce a relaxing indoor vibe. Ask your contractor for window types that allow you to harness the sunlight for daytime illumination.
3. Choose Calming Colors
When selecting a color palette for your bathroom, consider cool shades like blues and greens to evoke a sense of serenity. Neutral colors like white and beige give it a sense of cleanliness and concentration, and should be worth considering when planning your bathroom renovation.
4. Invest in Quality Products
Using products that look great and feel smooth and luxurious contributes to the spa-like experience, so invest in high-quality towels, linens and bathmats. Look for items with high thread counts made from soft materials like cotton or polycot.
5. Place Plants
The colors of plants can add to the relaxing atmosphere of your bathroom. With these around, you can also be sure that the indoor humidity is always in check. Choose plants suitable for a humid environment like the bathroom, including ferns, aloe vera and tillandsia.
6. Incorporate Technology
Smart technology isn't only limited to kitchens, living rooms and bedrooms. In fact, it can work well in bathrooms, offering better convenience and a customizable bathing experience. Voice-activated dimmable lights, for instance, can let you turn the space into an intimate oasis. Bluetooth speakers allow you to play relaxing tunes as you soak in the bathtub after a long day.
7. Add Luxury Elements
If your budget allows, add a few luxurious elements to your bathroom space. For example, a whirlpool bathtub that shoots out jets of water can give you a soothing massage. Also, adding heated floors helps keep the soles of your feet comfortable when bathing during cold weather.
Let's Start a Conversation
Want next-level bathroom renovations? The home remodel team at DreamMaker Bath & Kitchen of Beaverton has the experience and expertise to create a beautiful and functional bathroom that promotes a sense of calm and comfort. Call us at (503) 214-2167 or fill out this contact form to schedule a conversation. We serve homeowners in Portland, Beaverton, Hillsboro, Lake Oswego and Tigard.