---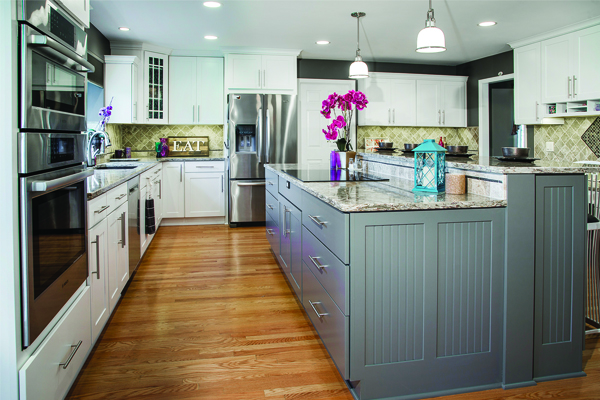 ---
If you are tired of living with your cramped, uninviting kitchen, you are not alone. Whether your issue stems from a lack of storage, poor layout or outdated design, a custom kitchen remodel can solve all these problems, transforming your kitchen from a place of drudgery and frustration into a place of enjoyment and easy meal preparation. Here are the four most popular kitchen design layouts to consider for your upcoming remodel.
1. The One-Wall Layout
Also known as the Pullman kitchen after the famous train car designer, the one-wall design is perfect for apartments and other small spaces. If you have a small kitchen and do not want to knock out any walls, aligning everything you need along a single wall could make sense.
2. The Horseshoe Layout
The horseshoe design has gained popularity in recent years, and its versatility is one of its main selling points. The horseshoe design can be used in kitchens of all sizes, from the tiniest cooking space to the largest gourmet kitchen. The beauty of this design is that it puts everything you need, from pots and pans to your sink, within easy reach.
3. The L-Shape Layout
The L-shape design is another practical solution for a custom kitchen remodel. L-shaped kitchens are a great way to implement the "working triangle," which makes it easy to move between your sink, cooktop and refrigerator. This makes meal prep more efficient. An L-shaped kitchen is also great for open floor plans because it only requires two walls.
4. The Peninsula Layout
The peninsula layout takes the L-shape layout and adds an island at one end, which is attached to a wall or other structure. This layout can be a great option when you don't have room in the kitchen for a freestanding island because it offers the same work space and storage that you would get from an island. The peninsula can also be used for seating if desired.
Get in Touch With a Local Kitchen Remodeling Contractor
If you are ready to transform your kitchen, it's time to take the first step by calling the kitchen design experts at DreamMaker Bath & Kitchen of Springfield. We're a local kitchen remodeling contractor that has been delighting Tyler homeowners for years. Just call (217) 922-0127 or submit our online form to start a conversation!