---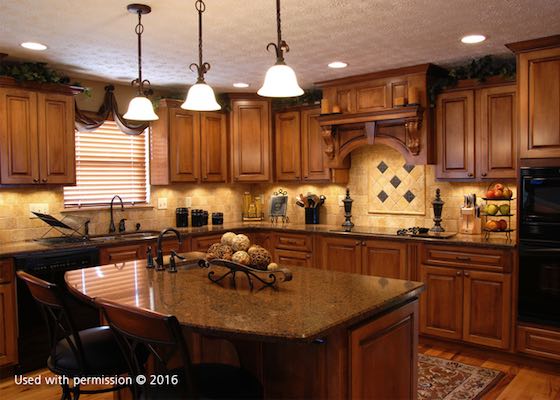 ---
One of the first things you'll learn when you drop by our design center for a consultation is that there are three types of kitchen and bath remodels. Think of them as levels ranging from the least to the most involved. "Higher" levels take longer to finish and involve more people, which means they also cost more.
The level of remodel your kitchen or bath will need will depend on the state of the space in question, your goals for the project, your design wish list and your budget.
Level 1: Cosmetic
A cosmetic remodel is limited to the replacement of easily removed products. The goal is to stay current and fresh without a lot of expense and downtime.
In a bathroom, a cosmetic remodel may include a new toilet, sink and faucets, an updated vanity, new mirrors and light fixtures, new bathroom accessories and a fresh coat of paint. In a kitchen, this kind of project usually involves a countertop and backsplash update, new appliances, new cabinet hardware and a paint job.
Level 2: Pull & Replace
A pull and replace or intermediate remodel is a more dramatic "facelift". It replaces all the essential elements of a kitchen or bath, with the exception of layout.
In both kitchens and bathrooms, this includes everything covered in a cosmetic remodel, plus new flooring, new cabinetry, and more extensive lighting and electrical changes. The tub and/or shower is also replaced. Most homeowners who want a style overhaul—like a traditional-to-contemporary kitchen remodeling project—choose a pull and replace.
Level 3: Custom
A custom remodel, also known as a total gut or redo, is even more dramatic than a pull and replace. Everything—and we mean everything!—can change. Your kitchen or bath is basically starting from scratch.
Again, this level covers everything the previous levels do, with significant additions. There are structural changes (e.g. walls knocked out) as well as changes to plumbing, electrical wiring and overall function.
Talk to Our Design Experts
To learn more about your options for your next remodel, schedule a free design consultation at DreamMaker Bath & Kitchen of the Southern Lakes. We're a full-service local remodeling company located in Union Grove and serving Kenosha, Racine, Burlington, Lake Geneva and the nearby areas. Call us at (262) 923-8721 today!