---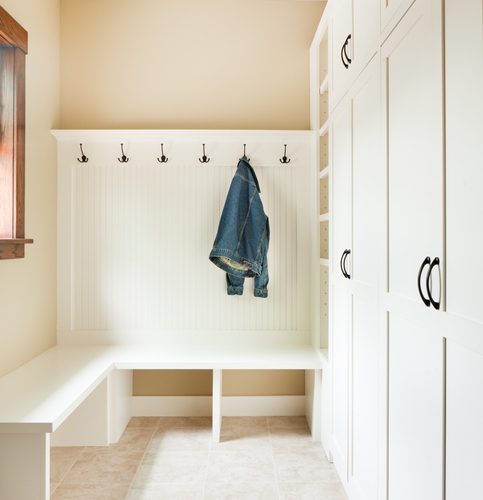 ---
Organizing can be a challenge, especially if you have a big family. Today, a mudroom isn't simply meant to prevent mess and clutter from affecting your living space; it also helps with keeping your home organized. Here are some reasons a mudroom should be your next home remodeling project, as well as things to consider when designing one.

Why You Need a Mudroom

A Cleaner Home

Your mudroom can catch mud and dirt before they are transferred to your hardwood and carpets. Porcelain tiles are a great choice for this part of your home since they are low-maintenance, easy to clean and cost-effective. Consider adding a utility sink or a pull-down nozzle for rinsing dirty boots and sports equipment.

Stay Organized & Save Time

A mudroom is a mix of a walk-in closet and a utility room. If you have enough space, dedicate a cabinet or shelf to each family member for coats and bags. Lower cabinets can also be used for seating, which helps when putting on shoes and boots. You can use baskets and trays as dividers for the cabinets.

The tidier and more organized your stuff, the more time you save. A mudroom will allow your family to get dressed faster, especially on busy weekdays.

Things to Consider When Planning a Mudroom

Foot Traffic

Consider who will use the mudroom and how often. Do you have kids or pets and regularly host family gatherings? Knowing how much foot traffic to expect will help you decide how big your mudroom needs to be, how much storage it should have and what kind of flooring material is needed. The more foot traffic, the more you need to choose a durable flooring option.

Your Ideal Aesthetic

Discuss the look you're going for in your space with your remodeling contractor. You'll want to coordinate your mudroom with the rest of your home's design. Consider basing the design of your mudroom on your kitchen.

Storage

Make a list of things you're planning to store in your mudroom. Is this space going to hold large sports equipment, children's backpacks or crafting materials? You'll also need to decide between open and closed storage. Open storage will provide you more flexibility with changing the space. Meanwhile, closed cabinetry will make your mudroom look tidier.

Let's Start a Conversation!
Whether you're planning a mudroom, a home addition or a bathroom remodeling project, DreamMaker Bath & Kitchen of Southern Lakes is here to help. We handle all aspects of design and remodeling to ensure consistency and efficiency throughout all stages of your project. Call us at (262) 923-8721 or fill out our contact form to get in touch with our design experts.