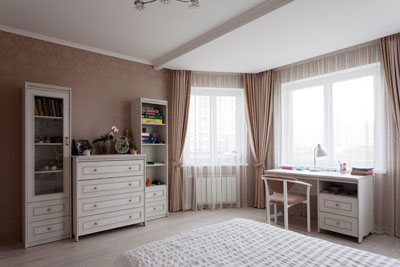 Do you want to install new flooring in the bedrooms of your home in Union Grove? There are several flooring options out there for this particular home remodeling project. Many people automatically assume carpeting is the best option for bedrooms, but don't count out hardwood floors just yet. Bedrooms with hardwood floors aren't for every household, obviously, but it's worth considering the advantages before making your decision. There are several reasons hardwood floors are perfect for bedrooms in Union Grove. Your professional contractor will be able to serve as a wonderful resource for flooring information. To help prepare you for your upcoming project consultation, here are a few things you should know about bedroom hardwood flooring.
Aesthetic Appeal
The first advantage is that bedroom hardwood flooring is beautiful. While certain carpeting can be pleasant to look at, few flooring options are as aesthetically appealing as hardwood.
Durability
Additionally, hardwood floors tend to be very durable. Many homeowners feel they are less appropriate for kitchen renovations and bathroom upgrades, but they can actually last for a very long time.
Allergy Friendly
Hardwood floors are also good for families with allergies. If someone in your household has problems with dust and pollen, bedroom hardwood flooring is probably perfect because, unlike with carpeting, it's easy to clean irritants away.
Interested in Having Hardwood Flooring Installed in Your Union Grove Bedrooms?
Do you think bedroom hardwood flooring is right for your home in Union Grove? If you'd like to discuss hardwood flooring options with a professional, contact DreamMaker Bath & Kitchen of Southern Lakes, Kenosha, Racine, Burlington, and Lake Geneva today. We will be happy to work through the flooring options with you. For more information or to find out about our free consultation offer, visit our website. You can also call (262) 287–9170 to schedule an appointment today.
Edited by Justin Vorhees
Hardwood Flooring Installation in Union Grove
We are happy to serve the Southern Lakes area. Our service area also includes Kenosha, Racine, Burlington, and Lake Geneva. We also serve Pleasant Prairie, Union Grove, Salem, Bristol, Sturtevant, Somers, Paris, Twin Lakes, Brighton, and Kansasville.