---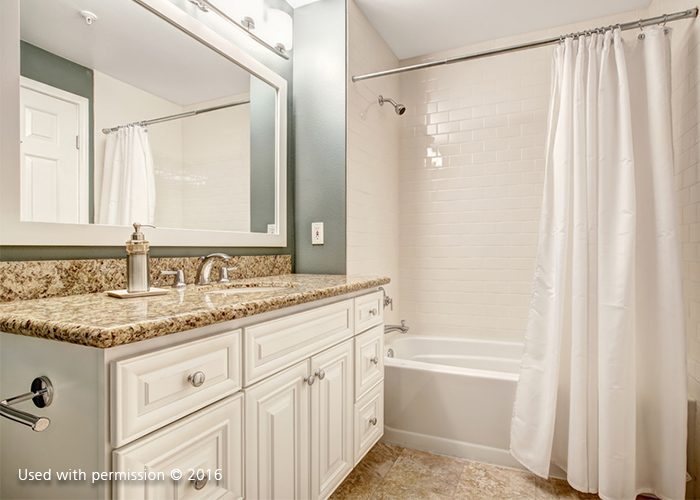 ---
We all love beautiful and clean bathrooms, but not all of us love the cleaning part, especially since the bathroom typically requires more attention.
When you're about ready for a bathroom shower remodel, you shouldn't miss taking this concern into consideration. There are design strategies you can apply to ensure that you have an easy-to-clean yet elegant bathroom. Here are some:
Little to No Grout
As you may already have experienced, scrubbing grout lines can be a pain. Grout is inescapable if you're using tile. So, the key is to use as little of it as possible. Stone slabs, for instance, have few seam lines, which are also narrow enough to not house too much grime and mildew.
Meanwhile, for walls that don't necessarily need to be tiled, you can opt for plain paint instead. There are specially formulated paints for bathrooms that offer mildew resistance.
If you love the look of tile, we suggest choosing large-format tiles. This way, there will be fewer grout lines to maintain.
Little to No Glass
Water-spotted glass is also very difficult to clean. Glass-enclosed showers look elegant, but if you're not one who can spare time and effort to frequently clean the glass, you may not want to choose a glass enclosure. A shower curtain can do the job of separating the shower from the rest of the bathroom. It's washable and easily replaceable too.
Little to No Frame
If you really want a shower enclosure and think you can handle the associated cleaning, we suggest that you choose a frameless enclosure. Without the aluminum frames that are gunk-magnets, you will only have to worry about cleaning the glass.
Let DreamMaker Help You Create an Easy-to-Maintain Bathroom
As your trusted local bathroom remodeling contractor, DreamMaker Bath & Kitchen of Southern Lakes can help you choose the design and materials that will help you achieve your bathroom remodel goals. Call us at (262) 923-8721 today to schedule a meeting and consultation with our expert designer.