---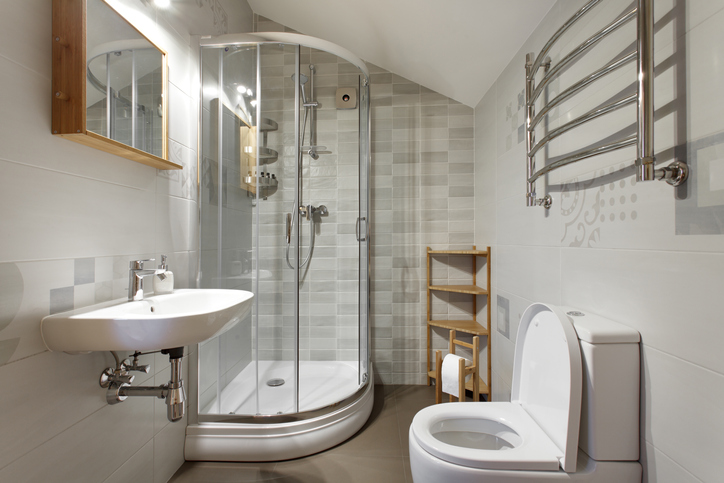 ---
Your bathroom doesn't have to be huge to provide the comfort and relaxation that you deserve after a long day. But if you want your small bathroom to look bigger than it really is, check out these ideas from the trusted home remodeling contractors at DreamMaker Bath & Kitchen of Southern Lakes.
Rethink Floor Tiles
Floor tiles installed diagonally can help make a bathroom look bigger. Using large tiles results in fewer grout lines, which also creates the illusion that the bathroom space is larger. You may also consider installing wall tiles that stretch to the ceiling to make the room feel taller.
Color Is Key
When working with a small bathroom space, you need to be careful with your color choices. Whites and neutrals are a safe bet as they can really make a small bathroom (or any space for that matter) look bigger and brighter. However, if you want to add color, make sure you choose shades that are complementary. If you want to go bold and dark, opt for tiles or paint with a glossy sheen that will reflect the light, which can help create a visual illusion that the bathroom is bigger.
Lighting Is Helpful
A well-lit space always looks bigger than it actually is. Consider redesigning your small bathroom's lighting. Avoid using suspended lights that will make the ceiling look lower. Cove lighting and wall sconces, on the other hand, can make the ceiling look higher and the entire space more expansive. For narrow bathrooms, consider illuminating one wall to open up the area.
Mirrors Are Your Friend
Because of their reflective surfaces, mirrors can help make a small room look bigger. Oversized mirrors reflect more of the bathroom, giving the illusion that the space goes beyond the walls. Mirrors also reflect light, making the room even brighter.
Need help making your small bathroom look bigger? Home renovation specialist DreamMaker Bath & Kitchen of Southern Lakes has you covered! Call us today at (262) 923-8721 or submit our online contact form to schedule a consultation. We serve homeowners in and around Union Grove, WI.