---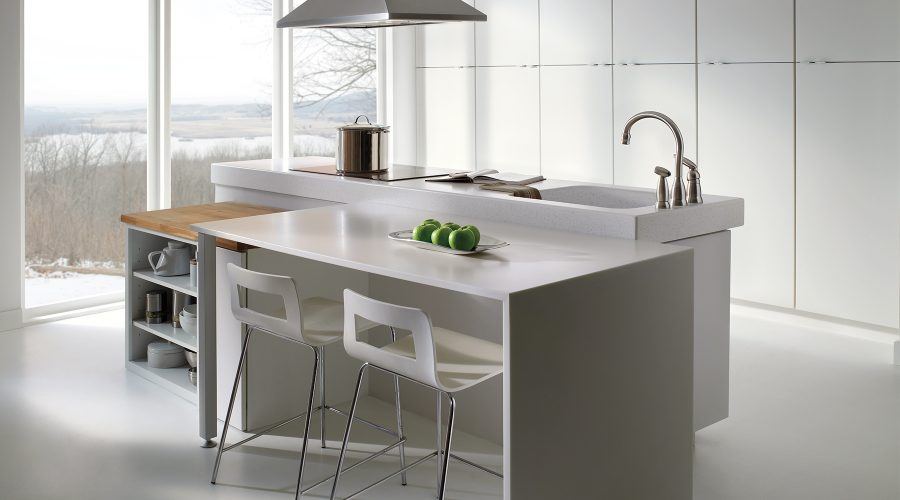 ---
Some trends come and go, but waterfall kitchen countertops seem to be here to stay. If your kitchen needs a practical and aesthetic update, then this feature should be worth your consideration. In today's post, the bathroom and kitchen remodelers at DreamMaker Bath & Kitchen of Schaumburg share an overview of waterfall kitchen countertops.

What Is a Waterfall Countertop?

A standard kitchen countertop features a slab of stone or other material that covers only the top. A countertop with a waterfall edge features the same material as the countertop extending down the sides, creating the appearance of the countertop descending like a waterfall. It creates a dramatic focal point in the kitchen, especially when the countertop material has a well-defined texture, as is often the case with marble and other veined material.

Advantages

Many people consider a waterfall countertop to be something that fits contemporary kitchen designs, but it can work with any home style. If your chosen kitchen countertop slab works with your kitchen's style, there's a good chance that it will work when extended to the floor.

Countertop materials like quartz have relatively low maintenance requirements. On a waterfall kitchen countertop, these maintenance requirements extend to the sides. If you have small children at home, having cabinets and islands with waterfall sides can save you a lot of time and effort cleaning up.

Other Considerations

The first thing to keep in mind is that a waterfall countertop will significantly increase your costs. There's also the matter of labor: it takes more work to install two slabs seamlessly. Commissioning a custom one-piece waterfall countertop is possible, though it will cost more.

A waterfall countertop needs to be planned to make sure it works with your existing kitchen design. The same countertop material, when extended to the sides, may work with the kitchen color palette, however, it may also work against other elements of the kitchen, such as the flooring. Fortunately, we have tools that can help you visualize what waterfall countertops will look like in your existing kitchen.

Let's Start a Conversation!
DreamMaker Bath & Kitchen of Schaumburg offers a wide range of professional remodeling services, including bathroom and kitchen remodeling. Call us at (847) 973-5097 or contact us online today! Visit our website for updates related to COVID-19 and to learn more about the DreamMaker Virtual Modified Process. We serve homeowners in Barrington, Bartlett and the surrounding communities.