---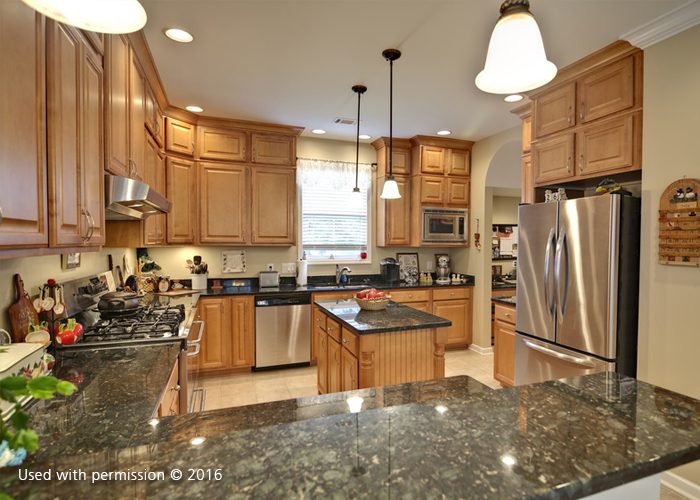 ---
A well-lit kitchen looks inviting and is much easier and safer to cook in. Good lighting is very important because it improves the visibility of your kitchen and makes it quicker and easier to use appliances and prep food. The wrong kind of lighting can actually make kitchen visibility worse. DreamMaker Bath & Kitchen of Schaumburg, one of the top kitchen remodeling contractors in our area, explains how to coordinate your kitchen's lighting.
The Different Lighting Layers
There are three layers of lighting and ideally, your kitchen should have fixtures for every layer. The first layer is ambient lighting. This refers to the soft overhead light that illuminates the floor and walls. The second is task lighting which illuminates countertops, sinks, islands and other work areas. The last is accent lighting. Accent lighting is between ambient and task lighting in brightness; ambient lighting fixtures are used to highlight decor and architectural features.
Types of Lighting Fixtures
Using all three layers of lighting will create the right level of illumination for all of the various functions of your kitchen. This approach will also minimize shadows and glare. Look for the best light fixtures in each of the three lighting categories. Accent light fixtures include puck and cove lights. Task light fixtures include under-cabinet lighting, LED strips and pendant lights that hang from the ceiling. Ambient light fixtures include recessed lights mounted in the ceiling, chandeliers and lanterns that hang from the ceiling.
Positioning Lighting Fixtures
Ambient light fixtures direct light evenly across the kitchen floor. If you are using a chandelier or lantern, then position it over the island or at the center of the ceiling. Task lighting should illuminate workspaces, so they should be placed directly above the sink or food prep area. Place accent lighting near details or decor that you want to show off.
DreamMaker Bath & Kitchen of Schaumburg can help you with your kitchen renovation or any other home remodeling project. We aim for excellence in everything that we do. Call us today at (847) 943-5097 to learn more about our services and products, or to request a consultation.