---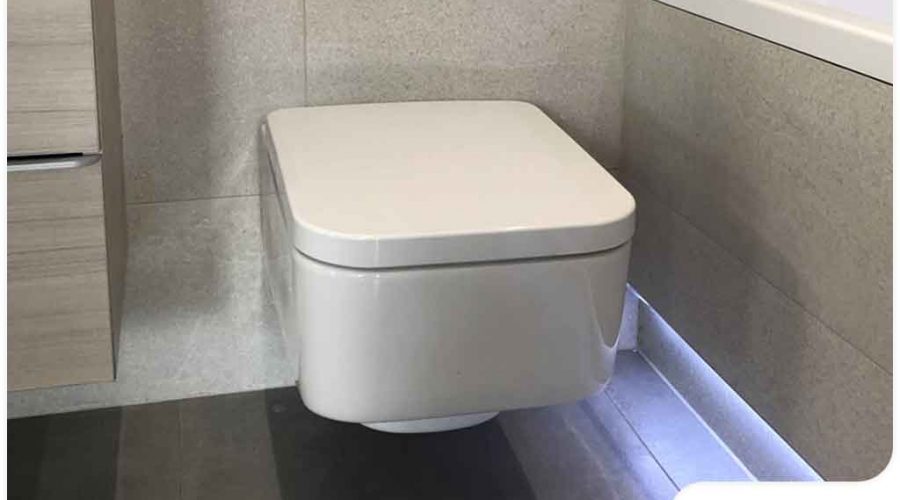 ---
Wall-mounted toilets are one of today's most popular bathroom upgrades, thanks to their sleek and modern look. If you're on the fence about including this item in your bathroom renovation plans, read on as the bathroom remodelers at DreamMaker Bath & Kitchen of Schaumburg share an in-depth look at wall-mounted toilets.

Wall-Mounted Toilets vs. Standard Toilets

One of the first things you will notice about a wall-mounted toilet is its size: it looks much smaller than standard toilets. This is because only the seat and bowl is visible. Everything else, including the toilet tank, is hidden in the drywall. Instead of a flush lever or button, wall-mounted toilets have a wall panel that typically includes dual-flush water-saving features. Other functions, such as the water shutoff valve and heated seat controls, can be installed in hidden panels.

Advantages of Wall-Mounted Toilets

Wall-mounted toilets offer several advantages over standard toilets:

Save Space — A wall-mounted toilet shaves several inches off a standard toilet's footprint, which makes it space-efficient. This makes a wall-mounted toilet a must for small bathrooms. It also frees up the floor space underneath the toilet, which creates the same effect of floating cabinets: they make the floor look wider.
Easy to Clean — The clearance beneath the toilet seat makes it easier to clean around the toilet, since it eliminates the need to navigate around tight spots.
Customize the Toilet Height — Wall-mounted toilets can be set at any height during bathroom renovations. This gives you the freedom to customize seat height (something that can't be done with standard toilets) and make it more comfortable, without compromising its features.
Other Considerations

Before you commit to adding a wall-mounted toilet in your bathroom, you should also consider the following:

It Will Cost More — As with any relatively new technology, you should expect that wall-mounted toilets will cost more compared to standard toilets. Electronic features, including heated seats, may raise the price even more.
Installation Requires Major Changes to Plumbing — If you're looking into replacing a standard toilet with a wall-mounted one, there will be major changes to the plumbing. In addition to taking out part of the drywall to accommodate the toilet tank, drainage and water lines will have to be rerouted.
Repairs Are Complicated — Standard toilets have fairly simple mechanisms that make them DIY-friendly. Parts are also easy to replace. On the other hand, wall-mounted toilets are more complicated and therefore require the assistance of a plumber who is familiar with wall-mounted systems.
Few Manufacturers Offer Them (for Now) — Not every toilet manufacturer offers a wall-mounted option. This is something to keep in mind if you want to keep things consistent by sticking to a specific brand for the entire bathroom.
Let's Start a Conversation!
DreamMaker Bath & Kitchen of Schaumburg is your leading provider of bathroom remodeling services. Learn more about wall-mounted toilets by giving us a call at (847) 973-5097. You can also fill out our contact form to schedule an appointment. We serve customers in Wheaton, Elgin, Des Plaines and nearby communities.