---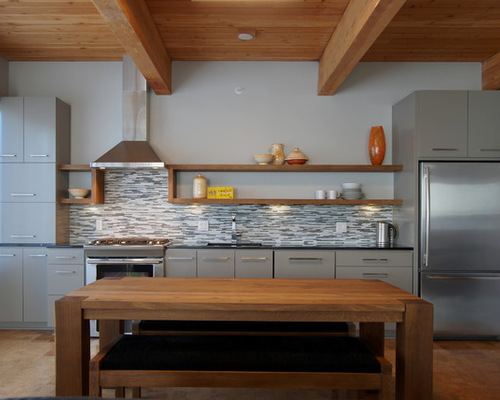 ---
Single-walled kitchens come into play in small homes or apartments and open-plan kitchens. Here are a few tips in making the most of your single-walled kitchen.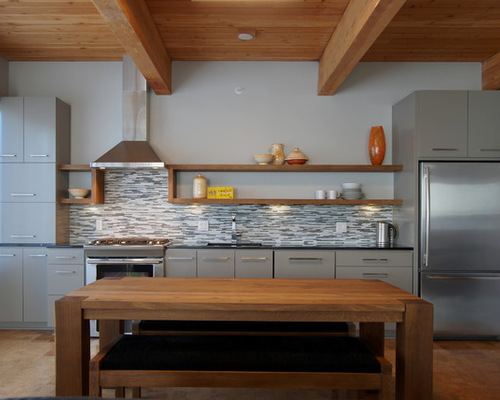 Embrace a Sociable Layout: The Single-Wall Kitchen is the epitome of a social layout. There are no added walls, which opens up the space for entertaining. Although a single-wall kitchen allows one person to cook at a time, it still allows others to access it. Make sure to keep this in mind when choosing furniture for the kitchen and accommodating your lifestyle!
Make it Efficient: Space is limited in this type of kitchen so planning out every detail is imperative. In a single-walled kitchen, usually, the fridge is on the far end of the kitchen run. The sink is located next to the fridge with counter space on either side. Beneath the counter, is the dishwasher and more storage space. On the far side of this, the oven and cooktop are located with ample counter space for safe food preparation with more storage beneath. Maybe you want to include tall cabinets to bookend the kitchen. Just makes sure that your layout makes sense to you because you are the one that will be using it daily.
Use a Standard Run of Cabinets: Just like in any other kitchen, you will want to include overhead cabinetry. This will create more space to store anything and everything that you need in your kitchen. Do not worry if this run of cabinets goes the entire length of the wall. This is normal. Be aware that if you wish to include a vent-a-hood, this is where it will be placed.
Mixed Shelving: You may not want a run of cabinets to span the entire length of the wall because design-wise you find it going against your aesthetic taste. Have no fear! There are other alternatives to breaking up this span of cabinets. Consider mixing in some open shelving or have shelving on the wall to the right or the left of the kitchen, making it décor with a purpose.
Bridged Upper Cabinets: Talk about adding storage space and utilizing every little inch of the kitchen. Bridged upper cabinets usually have tall cabinets on either side and cabinets that are placed on top of your other cabinets. If you want, make the upper cabinets stick out a little bit farther than the other run of cabinets to create a layered, sunken effect that adds depth to your kitchen. The cabinets come in an assortment of materials and colors, which makes it easy to find a run of bridge cabinets that will fit with the other cabinets you have.
Make sure to store items that are less used and get a cute foldaway footstool to access the items in those cabinets.
Max Out Storage: With a limited amount of cabinet space available, getting creative with other storage options is a must! Consider making your pantry larger to accommodate more items and maybe even a few countertop appliances. Add an island into the layout of your kitchen and place cabinets underneath. Get creative with your storage because the sky is the limit…or maybe the ceiling in this case.
Choose Appliances Wisely: Selecting appliances for a single-walled kitchen should not be a chore and you should not have to compromise. Lucky for you, appliance companies are designing their appliances for small, compact spaces. There is a plethora of compact dishwashers, compact ovens, microwave ovens and warming drawers. If you are going to have an open-plan arrangement, make sure that your appliances run quietly to reduce objections from those who are watching TV or reading in the spaces that connect to the kitchen area.
Add an Island: An island is a good way to add more storage space, increase your counter space and create more seating if needed. If you plan one well, it will accent the kitchen.