The DreamMaker Lubbock Team
With a dedication to superior craftsmanship and ethical excellence, our team of specialists deliver a design that meets your specific needs, while communicating consistently throughout the entire remodeling process. You can feel secure that your project will be completed in the most efficient manner possible with minimal disruption to your life. Plus, our foundation in honest, ethical business practices makes us the professionals you can trust to give you the home you've always wanted.
Keep scrolling to meet the team.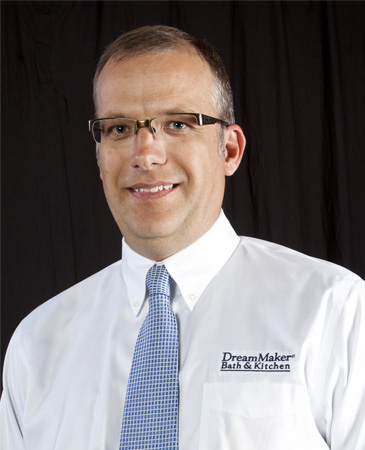 Steve Betts
I'm Steve Betts, and I am president of DreamMaker Bath and Kitchen of Lubbock and DreamMaker Bath and Kitchen of Amarillo.
I personally oversee each remodeling project and coordinate the full-service remodeling job. I grew up on a farm in the Oklahoma Panhandle. I earned a master's degree in economics from Oklahoma State University. After college I went into banking until starting my DreamMaker business. My wife, Stephanie, and I have two daughters, Landri, 11, and Addison, 14. We enjoy watching them play soccer. I also enjoy restoring old cars, including my first car, a 1966 Chevelle Supersport. I was 14 when I got that car. Besides cars, I enjoy riding motorcycles. I'm a sports fanatic, and we get season tickets to watch our Texas Tech Red Raiders.