---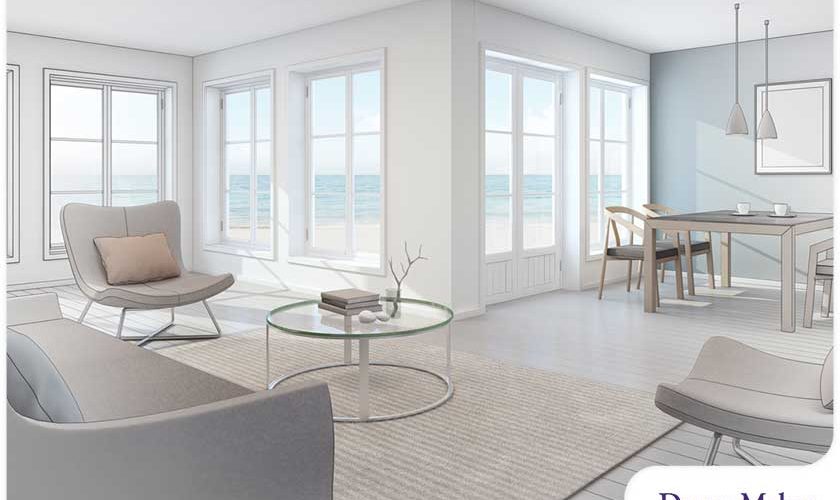 ---
If you're planning to add a relaxed and sophisticated vibe to your home remodeling project, you might want to consider coastal home decor, especially if you're into ocean-inspired flourishes and natural finishes with a touch of luminescent light. 
Defining Coastal Interior Design
It's not uncommon to confuse coastal interior design with nautical or Hampton's interior design styles. However, when it comes to defining interior design styles, what sets coastal interior design apart is its stylish and laid-back look. With modern coastal design, your home will have the atmosphere of a beautiful seaside retreat through color and furniture picks. 
Simple & Natural Materials
Texture-rich driftwood and other natural materials are just one of several elements that make this type of interior design stand out. Adding elements of cotton and jute will add a sense of luxury to coastal decor while providing a comfortable and relaxing feeling. Stone also works well in this type of design, especially for bathroom areas and kitchen flooring. The feeling of natural stone beneath your feet is not only stylish but practical as well. 
Complementary Color Schemes 
A big part of modern coastal interior design is keeping rooms clutter-free, light and airy. Use plenty of white, whether on your walls, ceilings or furniture, as it will form the basis of the style that will work well with other neutral and vibrant colors. Modern coastal interior design also makes use of neutrals in furnishings and accessories such as mirrors, rugs and coffee tables. Colors such as a strong blue and gray will provide more depth and visual strength. With this type of color scheme, you'll get a calming reflection of a true coastal interior with a hint of luxury and elegance.
Let's Start a Conversation! 
At DreamMaker Bath & Kitchen of Huntsville, we understand how important home renovations are to our customers. Want to make the most of modern coastal interior design? Let's start a conversation today! You can get in touch with us by calling (256) 203-9451 or filling out our contact form. We serve customers in Huntsville, Madison and New Hope, as well as many neighboring communities.