The DreamMaker Huntsville Team
With a dedication to superior craftsmanship and ethical excellence, our team of specialists deliver a design that meets your specific needs, while communicating consistently throughout the entire remodeling process. You can feel secure that your project will be completed in the most efficient manner possible with minimal disruption to your life. Plus, our foundation in honest, ethical business practices makes us the professionals you can trust to give you the home you've always wanted. Keep scrolling to meet the team.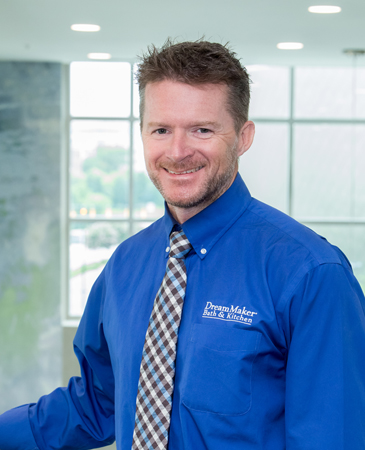 Brent Bailey
Born and raised in Florence, AL, Brent Bailey was born with a passion for Alabama, its people… and the Auburn Tigers. After earning a Bachelor in Industrial Design from Auburn University, he spent 20 years in the Kitchen and Bath Industry as the Director of Design and Vice President of Brand Management for one of the most admired Luxury Kitchen Appliance Brands in the country. His experience allowed him to be exposed to many aspects of design. From product, graphic, interior, architecture design, and even creation of multimillion dollar trade shows, Brent gained experience and talent that would set him up for a home run in the remodeling industry.
In 2015, he had a calling to move back to Alabama and open DreamMaker Bath & Kitchen of Huntsville. Since then, Brent has traded in his loafers for work boots and hasn't missed a beat. "My passion is people and design. Owning DreamMaker has allowed me to combine these passions by personally designing each client's kitchen and bath with their style, taste and budget in mind." With a wife, Sue, who doubles as his best friend and DreamMaker Financial Manager and two wonderful daughters, Abby and Madison, Brent has a support system that has forever pushed him toward this dream. Brent is truly our jack-of-all trades, everyone's favorite mentor, and the King of watching Iron Bowl reruns.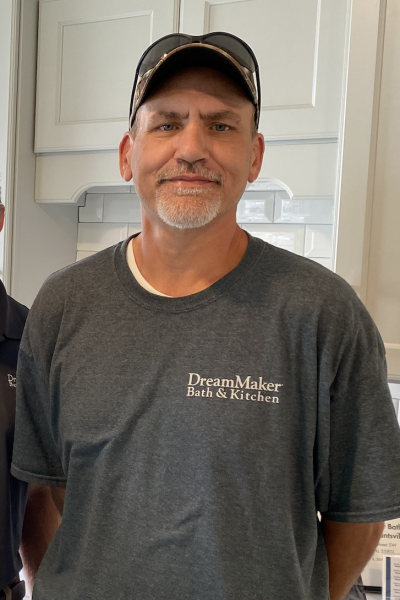 As one of DreamMaker's Lead Carpenters, Scott brings 18+ years of construction experience to Huntsville. Scott is originally from Freeport, NY, and has a Bachelor in Business Administration from the University of Mary Washington, where he also played college basketball, averaging 10 points and 11 rebounds per game. Scott has lived on both the East and West coasts and now makes his home in Huntsville. Scott is the proud father of two great boys, Jackson and Conner.
Scott came to work for DreamMaker because he loved the family atmosphere and saw a place where he could have a hand in making customers happy. He loves doing everything on the front lines of a project from clearing the space, to making the renovation come to life, to seeing the smiles on his client's faces once the job is complete.
When not working on client's home, Scott can usually be found creating something new around his own house. His newest hobby is shooting. Real guns… not nail guns.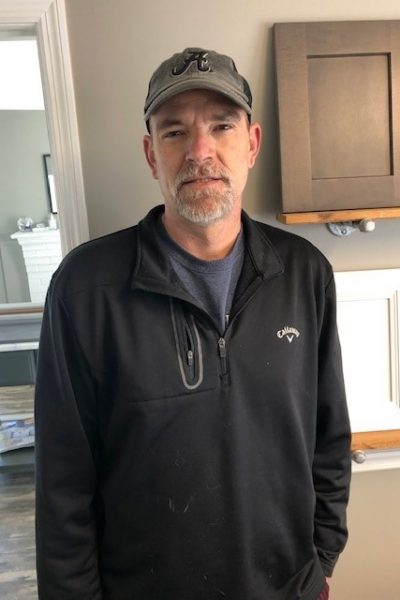 As a Lead Carpenter here at DreamMaker, Jessie has been in the carpentry world nearly his entire career. Even in high school, he worked as a framer after school and eventually went on to have a remodeling business of his own. He has tried other things in his years, but he has always felt that carpentry was his true calling and always ended up back in the carpentry world one way or another.  Jessie is originally from Arab, AL and has lived in the area his entire life. He and his wife Shannon have 5 children and 2 grandchildren and their grandbabies are their entire world!  Outside of work, family and carpentry hobbies, Jessie enjoys playing softball, basketball and cornhole.  His favorite part about working with us at DreamMaker is working with his hands and seeing the finished product of his skill and hard work.