---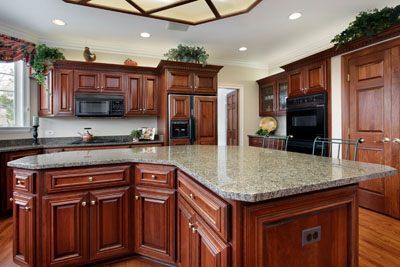 ---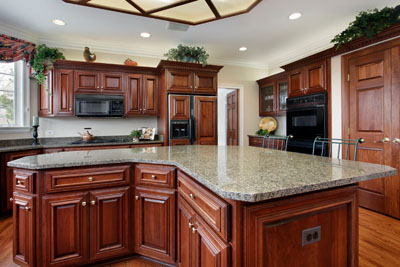 Many of our posts include design strategies for the kitchen as a whole. This time around, we want to focus on the best kitchen island design practices. The island, after all, is a central accent piece should you decide to include one.
Should You Include a Kitchen Island?
Before we discuss remodeling tips, we must point out that a kitchen island is not ideal for every home. As a rule of thumb, we don't recommend installing an island unless the kitchen is a minimum 12-feet long and 8-feet deep. Otherwise, the island may obstruct the kitchen work triangle. That is, the primary food prep area that encompasses the space where the sink, fridge, and stove come together.
Kitchen Island Design Schemes
1. Add Corbels
Some islands have a countertop that overlaps the base. This provides space for tucking in chairs. However, this creates an appearance of a floating countertop, which some homeowners find unappealing. Remedy this by installing corbels below the counter.
2. L-Shaped Islands
Some kitchen islands come in an L-shaped structure. The sprawling design ensures ample and uncrowded workspace. This also provides generous room for bar-style seating, which is great for serving guests.
Keep in mind, though, that this island style can divide the space, so it's not exactly the best option if you're aiming for an open concept design.
3. Adding Planks
Planks can make up the counter or part of the base. Use driftwood or aged wood for a "pirate ship" style appearance, for the lack of a better term. Combined with corbels, wooden planks add a natural and classic charm.
We'll Make the Kitchen Island the Centerpiece
DreamMaker of Greenville is in the know with all the latest kitchen trends. Our interior remodelers have implemented numerous kitchen island design schemes for all styles of homes
Edited by Justin Vorhees
Design Strategies for the Kitchen Island and the Whole Kitchen
Serving homes and businesses in Greenville and Greer, Mauldin, Simpsonville, Fountain Inn, Taylors, Travelers Rest, Easley, Piedmont and Spartanburg