---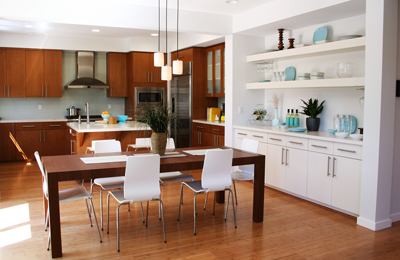 ---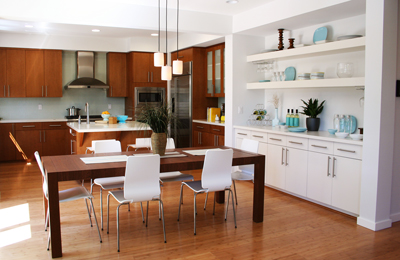 In most homes, the dining area blends into the kitchen. Other homes lack a distinct dining area altogether due to space limitations. Even if this is the case, you can still add a dinette. This is essentially just a mini version of a dining space. We'll provide some designing pointers for adding a compact kitchen dinette.
Designs for a Compact Kitchen Dinette
1. Add a Banquette
A banquette is a type of bench tucked into a wall. They are common in hotel lobbies and restaurant waiting areas. If you can spare a small corner in the kitchen, then we recommend an L-shaped banquette and a round wooden table of a vintage variety (think Pottery Barn). This provides a cozy and intimate dining space for two.
2. Add a Booth
If you have an alcove, you can insert two booth-style seats and wedge a small table in between. You can really make this alcove into an accent space by adding an overhead pendant light with a decorative sconce. You can also outfit the bottom portion of the seating with a mini cabinet system.
3. Add See-Through Chairs
Consider a dinette with a set of see-through glass chairs and table, preferably with polished chrome for the legs. The glass and reflective chrome exudes a contemporary and upscale look while also making the small space appear larger.
4. Replace an Island with a Dinette
A small kitchen likely won't have enough space for a conventional island. You just might have enough space, though, for a smaller dinette. A coffee table and two chairs will suffice.
We'll Design a Beautiful Kitchen Dinette
Our Process is simple: we create a beautiful kitchen dinette based on your input, though we'll make recommendations based on our expertise. DreamMaker of Greenville has renovated countless residential kitchens with a dinette and know the best remodeling strategies.
Edited by Justin Vorhees
Stunning Kitchen and Dining Space Renovations!
Serving homes and businesses in Greenville and Greer, Mauldin, Simpsonville, Fountain Inn, Taylors, Travelers Rest, Easley, Piedmont and Spartanburg