---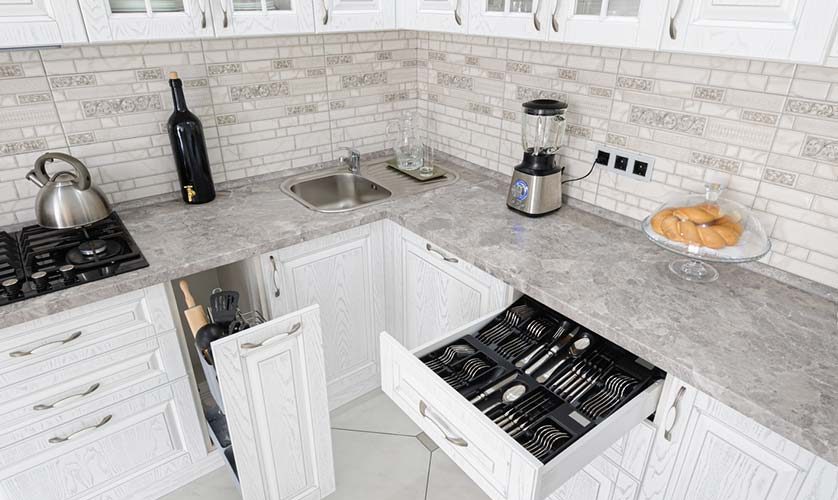 ---
Are you always juggling multiple tasks in your bustling kitchen? Do you dream of having a streamlined, organized space that caters to your active lifestyle? Let's take a look at some essential kitchen items that should be included in any busy household.
Ample Storage
Any busy kitchen should have ample storage. Instead of cramming everything into standard cabinets, why not consider customizing your storage options? By doing so, you can maximize your space and keep everything organized and accessible.
Stylish Countertops
Having a stylish countertop is more than just about looks. It also impacts the functionality of your space. Some materials you'd like to consider include granite, quartz, marble and laminate. Each has its benefits and characteristics, so consult an expert kitchen remodeler near you to help you decide which is the best fit for your budget and style.
An Easy-to-Clean Appliance Suite
Modern appliances typically feature stainless steel or black finishes that are easier to clean than the traditional white. Appliances with anti-fingerprint and smudge-proof finishes make it easier to keep up with a busy lifestyle.
Innovative Organization Ideas
Speaking of storage solutions, there are many potential options for organizing your kitchen. Innovative organization tools, such as pull-out racks and drawers, hidden cabinets, and corner carousels, can all help make your kitchen more functional and efficient.
Mobility-Friendly Flooring
If you or a family member experiences mobility challenges, then it's important to select kitchen flooring that is non-slip and easy to navigate. Durable but comfortable materials, like linoleum or vinyl, can be an ideal option for busy households.
Colorful Accents
Who said that a busy kitchen has to be all white and drab? Incorporating a bright pop of color into the design can help brighten your mood while cooking and make you feel more inspired.
An Open Layout
Lastly, an open layout can help make your kitchen feel larger and more welcoming. If you have the budget, consider removing walls to open up space and improve air circulation.
When it comes to designing your dream kitchen, it's important to get help from a professional. By working with an experienced kitchen remodeler, you can ensure the process runs smoothly and you get your desired result.
Let's Start a Conversation!
DreamMaker Bath & Kitchen of Greenville provides a detailed kitchen quote or kitchen estimate so you can get a comprehensive view of the costs of your project. Call us at (864) 214-0296 or fill out our contact form to schedule a consultation. We serve homeowners in Greer, Mauldin, Simpsonville, Fountain Inn and the surrounding communities.