---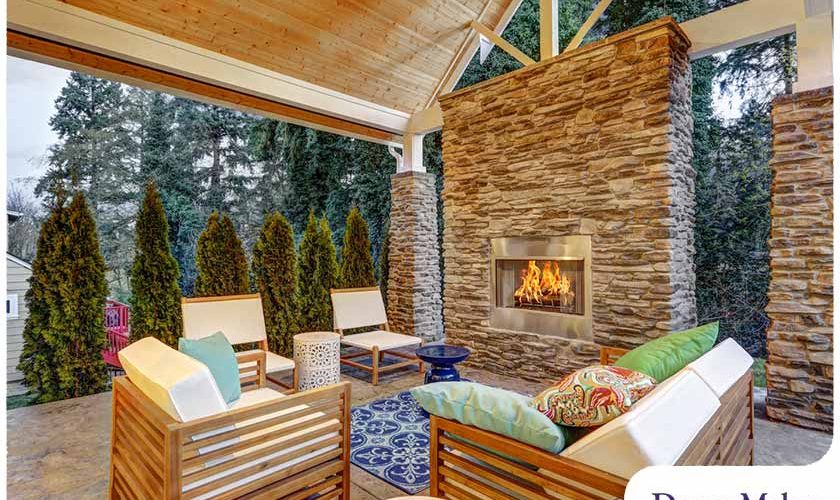 ---
If you enjoy spending time outdoors, it's worth investing in an outdoor living space. Whether you have an exterior deck or patio, there are many activities you can do to enjoy the fresh air such as inviting friends for Sunday brunches or relaxing with a good book on weekends. When the cool weather arrives, however, many homeowners move most of these activities indoors.
Fortunately, it's easy to plan an all-season outdoor living space. DreamMaker Bath & Kitchen of Greenville, your expert home remodeler, highlights a few tips and tricks to make it a reality.
Add Warmth for Comfort
Since it's less than enjoyable to stay outdoors during the winter, you need to add warmth to your outdoor living space for increased comfort. A fireplace, for instance, adds character to your outdoor space and makes it feel like a real room. The same goes for a firepit, which is a great alternative. Or perhaps you want to install a hot tub where you can immerse yourself even when the weather's cold. For this option, be sure that it is installed close to the back door to shorten the walk.
Transform Your Existing Space
If you have an existing deck or screened-in porch, you can make upgrades so you can use it in colder weather. Even if you don't have space for a full outdoor room, a great covered porch can be extremely beneficial. A five-foot space is enough room to gather your family and friends and walk by one another comfortably. You can even mount heaters on the ceiling to provide warmth when the cool season arrives. Meanwhile, a front porch gathering space also allows you to greet your neighbors from a safe distance.
Consider an Outdoor Kitchen
Outdoor kitchens are one of the most popular trends in outdoor living spaces — and for good reason. If you enjoy inviting family and friends over, your home renovator would recommend adding a full outdoor kitchen to your yard. It maximizes your outdoor space and makes it easier to entertain large groups of people. You can add a fridge, grill, countertops, bar stools, or even a television to keep your outdoor kitchen functional. During the rainy seasons, a durable roof can provide refuge. Your grill should also be tucked near your house to protect it from the elements.
Plant Seasonal Vegetation
Many assume that gardening is only for spring and summer. With the right plants, however, you can still see your greeneries and flowers even in the coldest months. As such, you should take the time to consult a landscape architect on which plants are ideal for your climate and the conditions of your yard. They can identify the right plants to keep your garden blooming no matter the season. Succulents, amaryllis, and orchids are a few examples of plants that tend to survive in cool climates.
Let's Start a Conversation!
Instead of searching online for a "home remodeler near me," look no further than DreamMaker Bath & Kitchen of Greenville. Our team of design consultants and installers is determined to assist you with your outdoor living space renovation. Call us today at (864) 214-0296, or fill out our contact form for a consultation. We proudly serve homeowners in Greenville, Greer, Mauldin, Simpsonville, Fountain Inn, Taylors, Travelers Rest, Easley, Piedmont, and Spartanburg.