---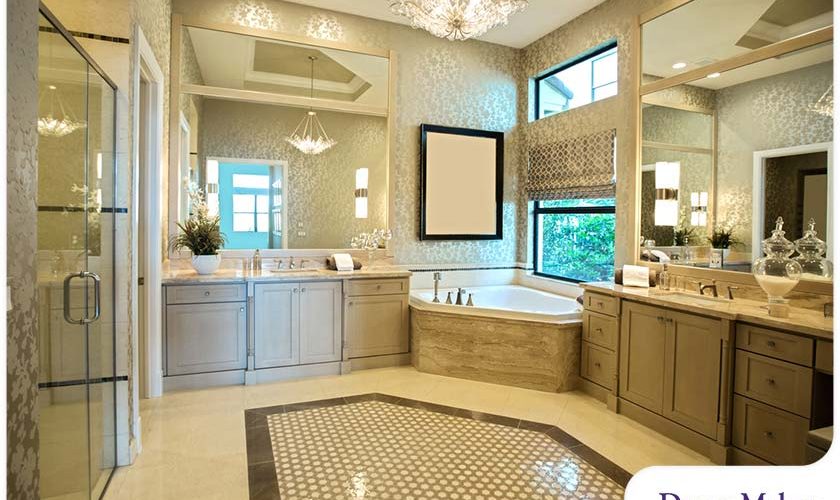 ---
To ensure your renovation goes smoothly, you need to plan it carefully with your bathroom remodeler. However, with so many misconceptions about this project, you may find yourself feeling discouraged. To help you separate fact from fiction, DreamMaker Bath & Kitchen of Greenville, a trusted remodeling resource, debunks four common myths about bathroom remodeling.
Myth #1: A Bathroom Remodel Only Takes a Couple Days
You might have heard that since bathrooms are smaller compared to other parts of the home, remodeling a bathroom only takes a day or two. Remember that there is constant activity in a bathroom remodeling project. Not only that, but there are many people involved in the renovation, including electricians, plumbers, painters and more.
In addition, countertops, shower doors and tub decks are usually customized and sized in accordance with your space. As such, the overall time it takes to measure, fabricate and install these materials will depend on the scope and complexity of the remodel.
Myth #2: A Bathroom Remodel Does Not Add Value to a Home
Another misconception about bathroom remodeling is that it does not add value to a home. However, if you are planning to sell your home, one of the factors that may drag down your home's value is an outdated bathroom. This is because most prospective homebuyers don't want to spend money on repairs or replacements right after purchasing the home.
For this reason, you'll find it easier to sell your home with a new bathroom. To ensure you get a good portion of your money back, your bathroom contractor may recommend changing out hardware, doors and windows, and even the current layout.
Myth #3: Bathroom Remodeling Is Only About Luxury
Some homeowners think that remodeling a bathroom should be focused on luxury and not functionality. The reality is that a bathroom renovation should not only make your bathroom look good but also improve your overall experience using the space.
Remodeling your bathroom can increase your home's energy efficiency too. For instance, consider installing faucets with a WaterSense label. With these, water flows at a maximum of 1.5 gallons per minute, while the average bathroom faucet uses 2.2 gallons per minute. By replacing faucets, you can save 30% on water usage in the bathroom sink and shower.
Myth #4: Bathroom Remodeling Is Worth It When You Expand
A bathroom remodel doesn't require you to tear down walls and build out to add more space. In fact, it can be as simple as working with the space you currently have through clever design plans that range from changing the layout to investing in more storage space.
Remodeling experts may suggest adding plenty of organizational options and storage. This way, you reduce the clutter in your bathroom, making it appear more expansive. Installing bright lighting fixtures and light-colored finishes also is a great way to enhance the sense of space in your bathroom.
Let's Start a Conversation!
Still looking up "bathroom contractor near me" online? Turn to the experts at DreamMaker Bath & Kitchen of Greenville instead. Our team is committed to making your dream bathroom a reality. Give us a call at (864) 214-0296 or fill out our online contact form to book an appointment. We proudly serve homeowners in Greenville, Greer, Mauldin, Simpsonville, Fountain Inn, Taylors, Travelers Rest, Easley, Piedmont and Spartanburg.