---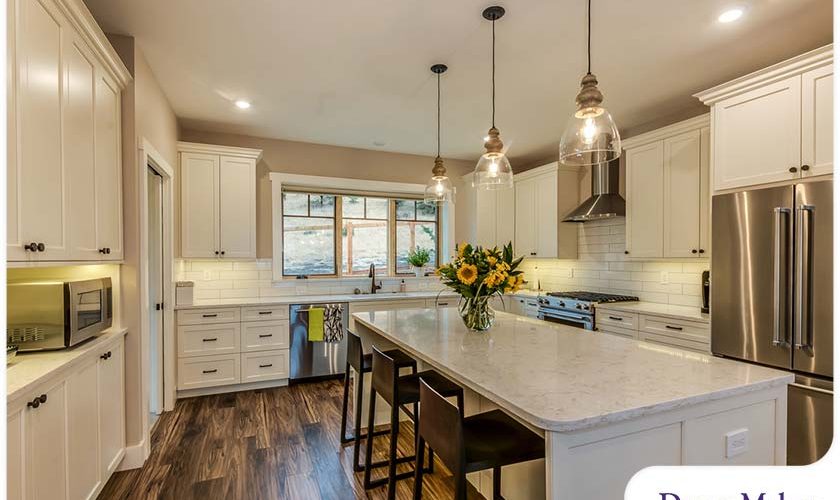 ---
A U-shaped kitchen, also known as a horseshoe kitchen, is characterized by its shape. This layout is formed by three connected walls of cabinets and counters. While it is more common in older homes and smaller residences such as apartments and townhomes, you may also find a U-shaped kitchen in contemporary homes.
If you're thinking of a U-shaped kitchen design for your renovation, you need a professional kitchen contractor for the task. Instead of searching online for a "kitchen remodeler near me", get in touch with the experts at DreamMaker Bath & Kitchen of Greenville. Today, we highlight the pros and cons of U-shaped kitchens.
The Pros
Entertainment Hub
For most households, the kitchen is the heart of the home. However, if the dining room is behind another wall, it may be difficult to entertain guests. Conversations are difficult to carry on without shouting through the hallway. For this reason, many homeowners are incorporating an open-plan concept. This integrates living room and kitchen to increase interaction and provide a more relaxed atmosphere. A U-shaped kitchen can be ideal for this purpose. By utilizing two walls and a breakfast bar, you allow guests to sit and talk while you prepare meals. You can also easily communicate with those in the living room or at the dining table.
Meal Prep With Others
Since U-shaped kitchens have three connected walls, they also have plenty of counter space. This means there are plenty of available work areas. If the kitchen is not too narrow, it can accommodate multiple people in the kitchen, making meal preparation easier and more fun. If you like cooking with your family, a U-shaped kitchen may be the perfect layout for your home.
The Cons
Corner Storage
In a U-shaped kitchen, you have two areas of corner cabinets. Depending on how your kitchen is designed, you may have a difficult time retrieving items from the back of these cabinets. To make corner storage more accessible, you need to plan carefully with your remodeler. They may suggest installing cabinetry specifically made for corners or storage carousels in the corners. This way, you make your areas more accessible while also getting the most storage possible out of the space. Keep these ideas in mind before getting a kitchen estimate.
Cramped & Tight Space
U-shaped kitchens typically have a tight space. Since there are three walls of cabinetry and appliances, this takes away floor space. While this makes it easier to have a small work triangle, you may find yourself feeling a bit closed in by your kitchen walls. Not only that, but U-shaped kitchens can be prone to traffic jams since there is only one way in and out.
During the design phase, your contractor can make sure the U is wider to prevent your kitchen from feeling cramped or tight even when there are multiple occupants. This can also help people enter and exit the kitchen with ease.
Let's Start a Conversation!
Thinking of a U-shaped kitchen renovation? Turn to the experts at DreamMaker Bath & Kitchen of Greenville! To get a kitchen quote, give us a call at (864) 214-0296 or fill out our online contact form to book an appointment. We proudly serve homeowners in Greenville, Greer, Mauldin, Simpsonville, Fountain Inn, Taylors, Travelers Rest, Easley, Piedmont and Spartanburg.