---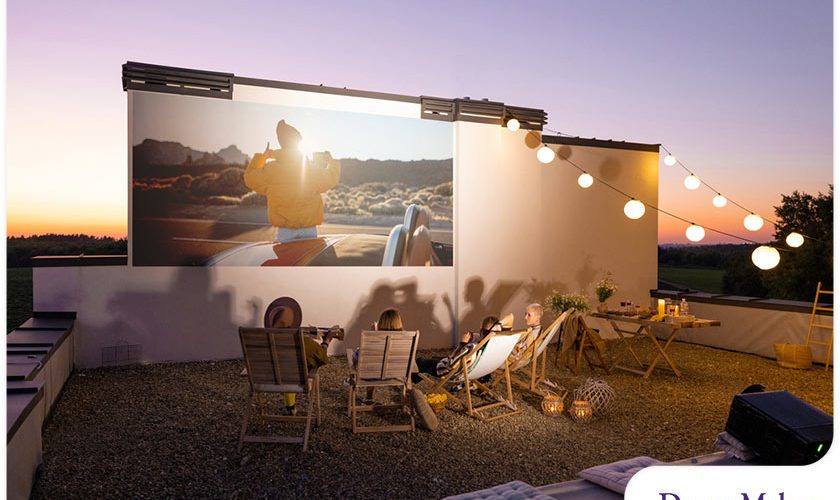 ---
With the world gradually returning to normal, many families are hosting get-togethers in the comfort of their own homes. If you want to take your gatherings to the next level, you might want to consider organizing a movie party in your backyard. Read on as home remodel expert DreamMaker Bath & Kitchen of Greenville shares tips on how to build an outdoor home theater.
Building an Outdoor Home Theater
Outdoor film viewing is best done at night since no projector can match the brightness of the sun. For an optimal movie-watching experience, seating and equipment location must be carefully planned. If viewers are too close to the screen, they may have difficulty watching since they will have to constantly look up.
In terms of convenience and safety, the length of the cables and the distance of the equipment from the power source are critical factors to consider. After all, no one wants their viewing experience to be ruined because someone tripped over the wires. If your outdoor theater is near a pool, ensure your setup is far enough from the splash zone to save your equipment from being damaged by water.
Screen & Projector
Good equipment is crucial to a satisfying outdoor film screening. That's why home renovation experts recommend using outdoor projectors with built-in MHL capability. This feature reduces the hassle of managing too many wires. Also, remember to pick a screen that's easy to assemble and disassemble, especially if your outdoor theater won't be a permanent feature. It's also important that you can easily take down the equipment during bad weather.
Other Things to Consider
Think about the type of outdoor theater you'd like to build. Do you want to be able to watch movies outside any time of the day or only at night? Many outdoor screens have anti-glare technology, which allows them to display images with outstanding clarity even in bright sunlight. Nevertheless, outdoor film screenings are more common in the evening because the outdoor temperature is cooler, the ambiance is better and the projector doesn't have to fight the bright light of the sun.
Let's Start a Conversation!
DreamMaker Bath & Kitchen of Greenville is a trusted name in the renovation industry. Whether your project involves bathroom exterior or interior remodeling, we can assure you of quality workmanship and excellent customer service. Request an estimate by filling out our contact form or by calling us at (864) 214-0296. We serve homeowners and businesses in Greenville, Greer, Mauldin, Simpsonville, Fountain Inn, Taylors, Travelers Rest, Easley, Piedmont and Spartanburg.