---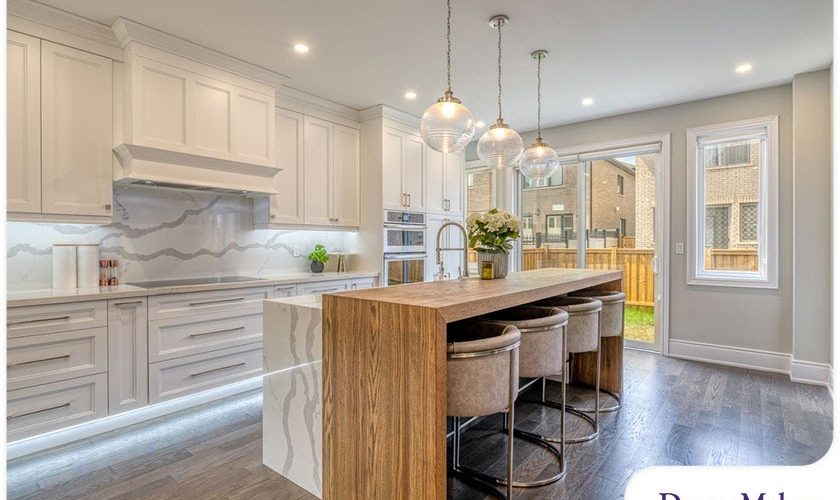 ---
Homeowners who are into neat, clutter-free spaces will find their match in contemporary kitchen design. With a focus on clean and simple lines, an open layout and natural light, this kitchen style has proven to be just as timeless as its more vintage counterparts. And while a contemporary kitchen may be functional and minimalistic, it is never boring. DreamMaker Bath & Kitchen of Greenville, a premier home renovator in the area, shares how you can turn your current kitchen into the sleek, contemporary space you've always wanted.
Add smart storage. Because a contemporary design highlights cleanliness and organization (no unnecessary items or knick-knacks on full display), you'll want to make sure everything has its place inside your kitchen. This means more smart storage to hold everything, from cooking essentials like pots and pans to basic tableware. Speaking of storage, the cabinets and drawers in a contemporary kitchen are often unadorned. The staple is slab doors, but you can also pick doors with a simple recessed panel. As for hardware, it's simple knobs and handles in metallic finishes like chrome and satin nickel.
Use engineered surface materials. This means integrating plenty of glass, concrete, metal, laminate and other manmade materials. While a smooth, industrial look is what a contemporary kitchen is mostly about, it pays to include natural materials to prevent it from looking cold and impersonal. Using wood and natural stone, such as granite and marble, can go a long way in adding warmth and personality to your contemporary kitchen. And if you're having trouble mixing all these elements together, you can always consult a top kitchen remodeler like DreamMaker Bath & Kitchen of Greenville.
Keep it neutral. Contemporary kitchens are light and airy, so it's a great idea to pick a color palette that allows you to maximize the natural light in the space. White is the safest choice – not only does it add a sleek and elegant look, it also reflects light effectively. Just make sure to use different shades of white, along with light neutrals like taupe, beige and brown, for depth. To provide a good contrast to all the light tones, pick a darker color for the kitchen floor. Does it still seem a bit too safe? Add pops of color throughout the room as accents.
Design Your Dream Kitchen With DreamMaker
DreamMaker Bath & Kitchen of Greenville is a premier "kitchen contractor near me" in the Piedmont, Greer, Mauldin, Simpsonville, Fountain Inn and Taylors areas. We'll make sure your newly transformed kitchen is exactly what you envisioned. Start a conversation with us by calling (864) 214-0296 or filling out this contact form. If you'd rather see what we can offer firsthand, you can visit our design center Monday through Friday.