---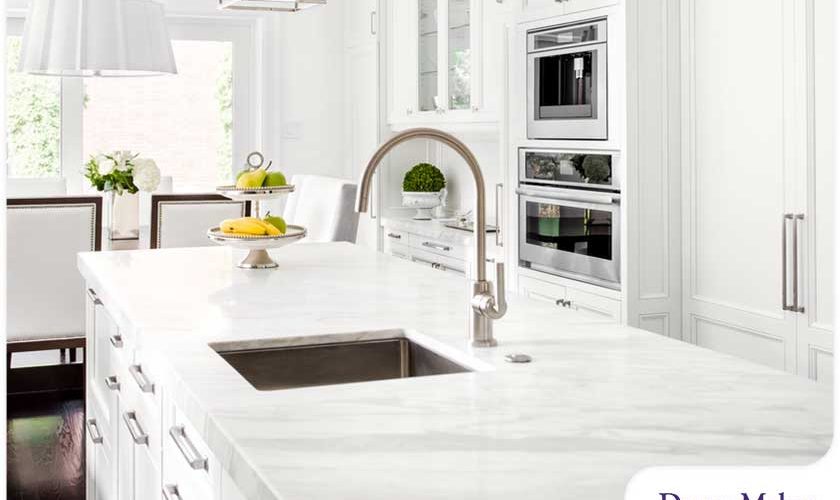 ---
Marble is among the oldest countertop materials yet still remains the most popular, thanks to its natural veining (or "marbling") and wide range of hues. If you're looking into marble for your kitchen or bathroom countertop, read on as local kitchen remodeler DreamMaker Bath & Kitchen of Greenville shares a buyer's guide to marble countertops.

Know the Difference Between Cracks & Fissures

While the terms "cracks" and "fissures" are sometimes used interchangeably, they are two different things when referring to marble. Cracked marble may have been dropped or mishandled, and is considered damaged. Fissures in marble, on the other hand, are naturally occurring and do not affect the integrity of the slab. If you slide your nail across a fissure, it shouldn't catch your nail. For some people, fissures add character to a countertop, but if you would rather have a perfectly flat countertop, ask your remodeler or supplier to provide a slab without fissures.

Ask Your Remodeler About the Origin of the Marble

Marble has hundreds of varieties sourced across the world, some of which you may already know about. Calacatta and Statuario are some of the most popular varieties, both of which are mined in Italy. Some marble suppliers use the term "Italian marble" or "Calacatta marble" to describe any kind of white stone with veining in it. Reputable remodelers will only work with legitimate suppliers that are upfront with the varieties of marble that they provide.

Different Cuts Create Different Looks

Marble can be cut in certain ways to achieve distinct veining patterns. Two halves can be put together to create a symmetrical book-matched look, while cross-cut marble can create an "open flower" pattern. Striato, or vein cut, is a method that cuts the block along the grain of the marble, creating a striped appearance. The right combination of cut, color and veining can enhance your bathroom or kitchen dramatically.

Transform the Look of Marble With the Right Finish

A protective coating helps keep your marble countertop looking like new. In addition to popular finish options like polished and honed (which appear glossy and matte, respectively), other textures are available. Before you choose your coating, consider how the countertop will be used. For example, acids from fruits and vinegar can dull a polished finish, so a honed finish would be more suitable for a kitchen countertop.

Consider Curving the Edges of the Countertop

Thanks to marble's natural softness and today's computer-controlled milling machines, you can choose virtually any edge profile for your countertop. Straight-edged marble countertops are the most popular, but they also need a bit more care: 90-degree corners are more likely to be noticeably chipped. To avoid this, consider having the edges of the countertop curved. You can have it done so there's a subtle curve that softens the edges, or you can go to the other extreme with diner-style rounded corners.

Let's Start a Conversation!
DreamMaker Bath & Kitchen of Greenville offers a wide range of professional remodeling services, including bath and kitchen renovation. Give us a call at (864) 214-0296 or contact us online for updates related to COVID-19 and to learn more about the DreamMaker Virtual Modified Process. We serve homeowners throughout Greenville as well as the surrounding communities including Easley, Piedmont and Spartanburg.